2002 Tahoe Expedition Veh - Build Thread
Hello All
Thought I would finally introduce my ride, I have been working on her just about non stop since I bought it in 2005. Ever since I have slowly been working towards turning it into an Expeditionary Vehicle. I finally have it to a point that I feel that the project is just about 75% done......
Here is what has been done so far:
BlackBear Tune ( hoorah! )
Flowmaster Series 50 Dual Side outs
Volant CAI intake mated to a Safari Snorkel (converted one for a Toy)
Defender Roof Rack
Go Rhino push bumper with Hella Lights
Z71 Air Dam with Angel Eyes fog lights, air dam painted black
North Face Gauge Face set from JP Customs
All interior dash lights converted to red
cassette deck removed and replaced with Cobra CB radio
XM radio
PIE Aux - 9 Input Adapter
Kennesaw Mountain Acc. rear bumper with tire carrier, hi-lift jack mount, tow points, LED reverse lights, and removable jerry can holder
Z71 Rear Coils
2" coil spacers from MC Motorsports
F150 Keys
Debadged & Dechromed
windows tinted, Ventshades, bugshield
converted DRL's into fog lights
American Racing Mojave's in black Teflon
Nitto Terra Grapplers in 295/70/R17
To be done:
KC lights for the Defender Rack
Winch Ready front bumper with Mile Marker winch
On Board Air
12V cooler
I have already explored a bit of South Utah and North Arizona, but always in rental vehicles so I never had a chance to have real fun..... I can't wait to be ready to go run some trails.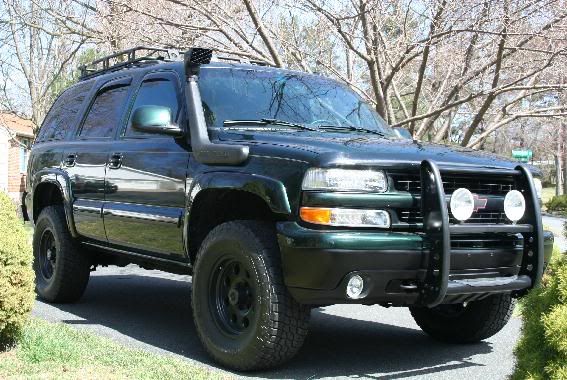 Closeup of my Kennesaw Mtn rear bumper with the spit carriers....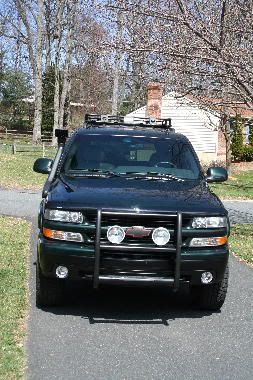 If anyone is interested, I have done a complete write up on the snorkel conversion over on z71tahoe-suburban.com, under " Off Road Tech ". I am really, really glad to have found this forum and others who love an Expeditionary ride.....:safari-rig:
Any comments or suggestions appreciated...
Last edited: