First Post
A short introduction…. I've always wanted to do some type of upgrades/customizing to my vehicle but I've never had a truck worth putting any money into. I usually drive my vehicles to the point that they are towed away to the big scrap heap in the sky.
I had the same final end point in mind with my 1994 Chevy S10 (2wd, four cylinder, manual). It had about 86,000 miles on it and was chugging along just fine.:smiley_drive: Just fine that is until an 84-year-old woman ran a red light and totaled my truck.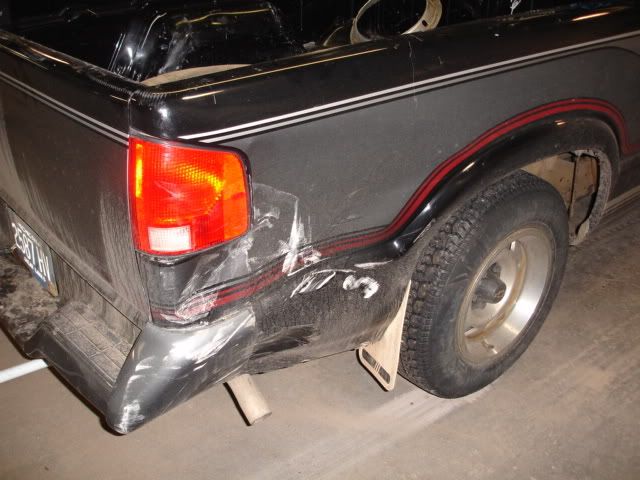 Due to the unfortunate demise of my S10, I was now in the market for a new used truck. I already knew the basics of what I was looking for. I wanted four-wheel drive, more power, automatic transmission, and cruse control. After a very quick search I ended up getting a 2005 Chevy Colorado.
Vehicle Specs.
Z85 LS Model
4-wheel drive
Crew Cab
5' 1" bed
5 Cylinder, 3.5-liter, 220 horse power
Four speed automatic
Stock tire size 235/75r15 (Diameter = 28.9")
Anti lock breaks
Torsion bar suspension on front
Leaf under axel in back
Cruise Control
Power Windows
came with plastic bed liner
Now I have something to play with.
The only modification I had in mind initially was to get some Bushwacker fender flares to make it look a little more like the Z71 model (don't ask why I didn't just get a Z71 model truck in the first place). I ordered a set from ebay and installed them soon after they arrived. This simple modification set off a chain reaction that ultimately led me to the Expedition Portal web site. The fender flares looked great and were easy to install. The problem now was that my stock tires looked even smaller than they did before. I wanted to see what other people with similarly sized trucks have done to their rigs to get an idea of how big I waned to go. I knew I didn't want to make my truck into a rock crawler or anything like that. My friend has a jeep that is one step away from being put on a trailer to get from location to location. I would rather take my four-wheeler down that type of road/trail. What's a man to do…what's a man to do…click…click…click.. Expedition Portal??? What's this site about? This was the answer that I was looking for. Not 100% street, not 100% off road, but right in the middle. The ability to take you to some of the most remote locations, and still be a daily driver. (That's the direction I'm going with anyway) Let the mods begin.
I will post some pics of all the goodies that I have accumulated over the winter. No garage, so most of them are sitting on my closet floor right now.
Plan of attack:
I plan on keeping this truck my daily driver. The whole reason for me getting a crew cab was to comfortably carry more then two people. So no taking out the back seat. I am somewhat going with the
Wescott's Weekend Warrior
concept. I want this to be a multi use vehicle. I am defiantly new to all of this and will welcome any and all comments and suggestions.
More to come as time permits.
Last edited: