2007 Jeep Wrangler Sahara JK8
- Silver with Charcoal Gray Interior
- 59K Miles
- Auto
- Power Windows & Locks
- Keyless Entry/Alarm
- AC
- AM/FM Radio/CD/Sirius
This Jeep started its life as a 2007 Jeep Wrangler 4-door Sahara, but has since been converted to a 2-door truck with the Mopar JK8 kit.
Mopar JK8 Body Kit (includes: half hardtop, targa tops, bulkhead, new rear quarter panels, truck bed, new rear rollbars, misc interior pieces, etc)
The conversion has been completed by a professional auto body & paint company.
It has under 50 miles on the conversion.
It has a Clean Title.
It runs & drives beautifully.
I am NOT a dealer. I am a private owner selling this Jeep.
Most all of the Jeep JK8s that you see listed are by a dealer, but not this one.
Here are some of the modifications that have been done to this JK8:
- Rockcrawler Front Bumper (D-rings, winch & foglight ready).
- Rockcrawler Rear Bumper (D-rings, rear hitch & trailer wiring).
- AEV 2" Suspension Lift (also replaced the old trackbar with a new one).
- 2012 Factory Jeep Rubicon 4-door Shocks (red in color).
- BF Goodrich All-Terrain KO Tires, size: 275/70/18 (x5).
- Jeep Fuel Filler Door.
- Factory Wiring to rear taillights has been re-routed & hidden (Most other JK8s leave the factory wiring exposed to the elements & to your eyes, but not this one).
- Hidden Antenna (factory antenna removed & new hidden antenna mounted inside rollbar padding).
- Trail Rated Badge/Emblem (mounted in place of factory antenna).
- Hardtop & Targa Tops have been painted to match Jeep.
- Quick-turn Hardtop Bolts (for quick & easy removal of hardtop without the use of a torx bit tool.
- Truck bed has been Rhinolined (sprayed, not rolled on).
- Tie-downs in truck bed.
- Rear locking storage in back of truck bed (another custom JK8 modification that has not been done by others).
- Jeep Rubicon 4-door Rock Rails (rhinolined to match truck bed).
- Factory 3rd Brake light deleted & rear tire mount rhinolined to match truck bed & rock rails.
- New 3rd brake light added on hardtop (has stop lamps & turn signals wired in, also has quick disconnect for removal of hardtop).
- Modified Soundbar to fit inside cab in factory location, which retains speakers & overhead light (I dont know of another JK8 that has this done).
- Jeep Rubber Slush Mats.
- Factory Jeep Seats from a 2-door Wrangler JK (this allows both seats to slide forward for better access to the rear (once again, I dont think that I have seen another JK8 have this).
- Locking Hood Latches.
$31,000.
I am also open to trades.
Let me know if you have questions or if you or someone you know is interested.
sblaine@atlassecurity.com
417-224-4531 (cell)
Thanks, Sam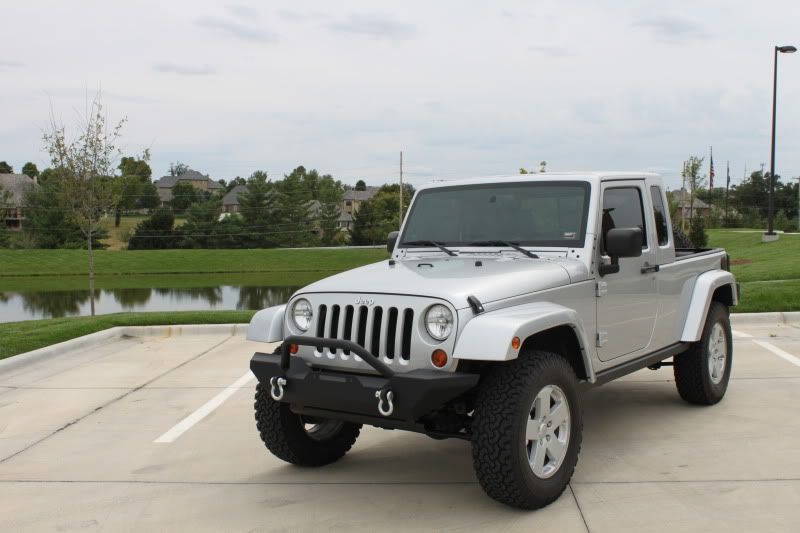 Last edited: