COOPER DISCOVERER writing contest entry.
Jeeps and adventures have been a mainstay of my entire existence. My childhood was filled with camping, fishing, and summer trips spent in the west exploring national parks. I am one of those lucky guys who found a wife which also shares a love for adventure. Our relationship has seen cold nights in a tent, rock climbing adventures, and trips to foreign countries. I have never owned a vehicle other than a Jeep and am currently on my fourth Jeep. They have always served me well and provide a means for adventure. Recently after having our first child I have been thinking and looking for a way to combine my love's for Jeep and adventure. Enter Overlanding.
I have been to Moab Utah three other times and when it came time to plan this trip I wanted it to be filled with adventure and away from mainstream. My previous trips have been spent in rental houses and this one would be different. My intention here is to chronicle my adventure so that I can share the successes and failures of my first Overland trip. The plan for this trip would include driving my 03 Jeep Grand Cherokee and my Dad's 05 Jeep Unlimited Rubicon from NC to Colorado and then on to Moab. I recently acquired a modified Fleetwood Off-Road camper which would serve as our home away from home. Once arriving in Colorado we intended on kissing the Interstate goodbye and relying on back roads as our route from destination to destination. In addition to my Dad and I, my friend from work Tyson accompanied us on this adventure. Our trip included mountain passes in Colorado, hard trails in Moab, and time in Canyonlands National Park.
Day One, busting it across the US.
We departed late on September 11th with the goal of reaching Amarillo Tx for our one and only hotel stop for the trip. I hoped to have plenty of time to catch a few Zzz's before we left but that was not to happen. I love watching Expedition Overland and every season on the season opener they are scrambling to get things together at the last minute. I didn't understand that and wondered how in the world you could be scrambling at the last minute to get a trip together which you have known for months about. Well, this time it was me! I was up finishing last minute details on the trailer, getting things mounted and adjusted for the trip. My nap was not to happen.
I met up with my buddy Tyson at his volunteer fire department and then disembarked to meet my dad about an hour away. At 2200 hours we met up, grabbed some grub at McDonalds, checked the air pressures in the tires, filled up with gas and we were on our journey. This was really my first opportunity to tow the Fleetwood since I have had some recent modifications done. It towed like a dream, the new suspension system was soaking up the highway bumps like a champ, and the WJ's 4.7 handled the extra weight without a problem. I do not have much to write about the journey from NC to TX other than it was long. We arrived in Amarillo with plenty of time to spare and quickly grabbed some dinner and hit the bed. Morning came quick, we were up and out of the hotel in no time.
Some windmills in TX.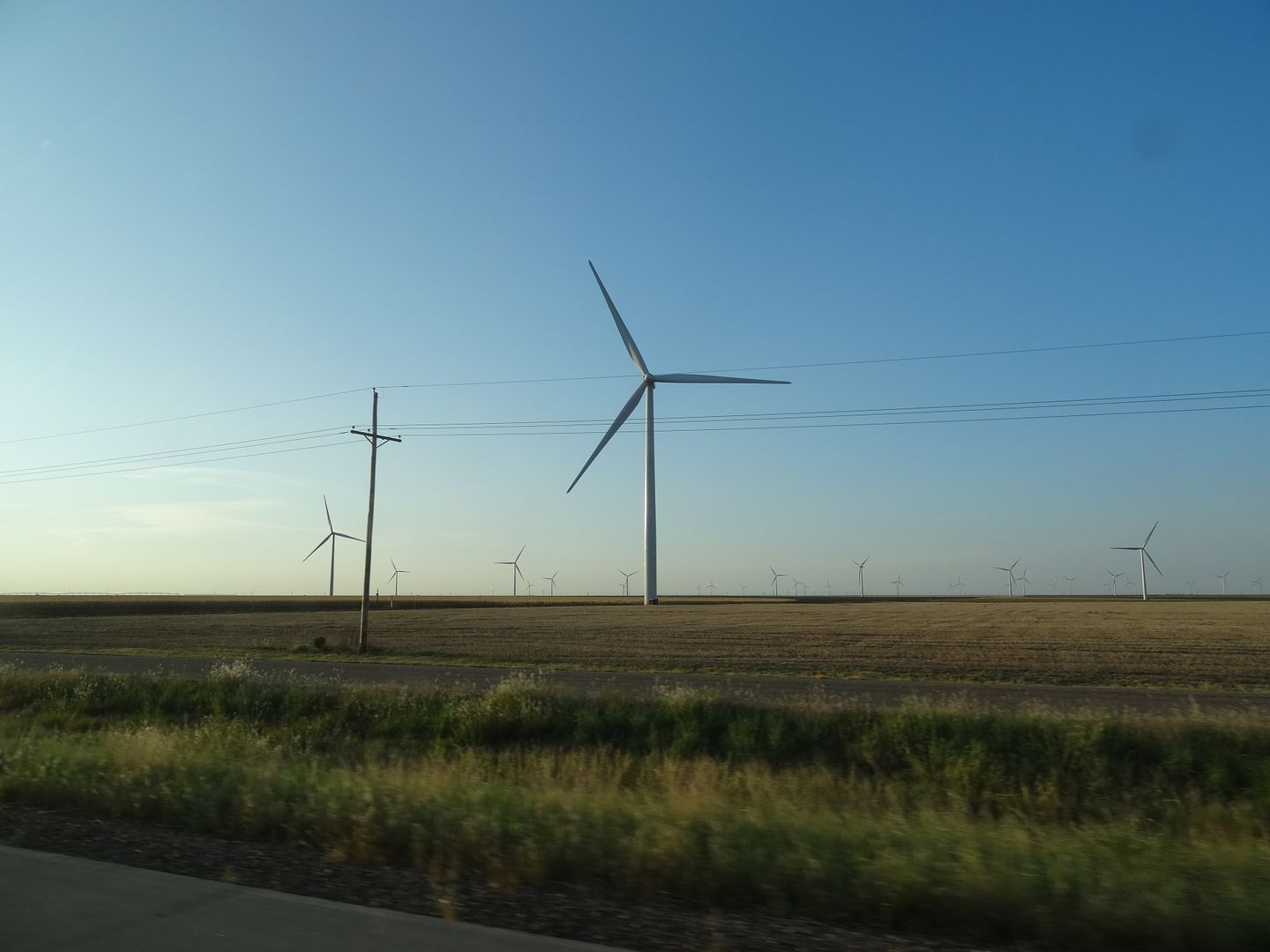 Day 2: Finding a worthy campsite.
We made it to Bloomfield New Mexico by lunch and stopped for some food. We are always looking for something local, or different from home, so we stopped at Serious Texas BBQ. I later found out this was a chain as I saw several other restaurants in Colorado. But we didn't care because to us it was something new and different. My main reason for including this seemingly routine stop for food, other than the awesome BBQ, was the sign which was posted on the door. On the door was a sign which honored Law Enforcement Officer's, thanking them for their service, and offering free food to any LEO and their families from Sept 11 through the 13th. As an officer I really appreciated this, especially given the recent media driven climate against Officers. We didn't take them up on their offer in order to support their business.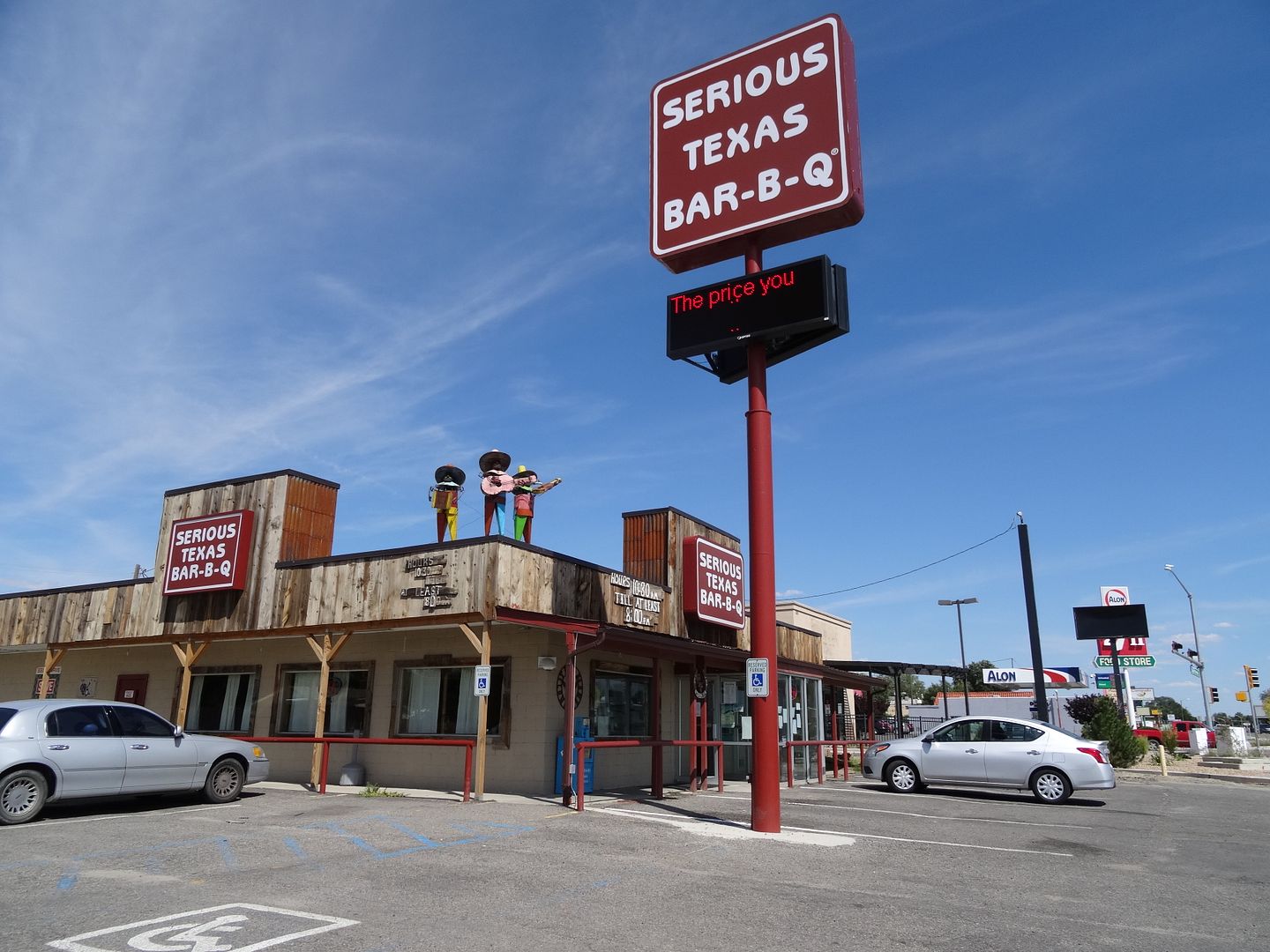 The rest of the trip was uneventful. Tyson and I were drawn in by the huge views and big mountains but I knew that we had much more to come. Even though I live in the mountains of NC I am always jealous of the magnitude of mountains which are offered in the west.
We quickly located our trailhead for 585 which would take us past South Mineral Campground. I took some advice from some ExPo members to locate a place to drop the trailer before we hit the mountain passes as opposed to taking it over some of the passes. I wanted to locate a nice secluded site which put some distance between us and others. My goal were some dispersed camping sites located near the Bandora Mine. I couldn't find much information about these sites other than they existed. The road turns "rough" past South Mineral Campground and required us to finally switch the Jeep into 4Lo with the camper. The camper again soaked up the trail with ease and it was a blast taking the trailer down its first trail. As we continued down the trail we wondered if we would locate a site big enough for us to deploy the camper and awning. With the three of us we intended to utilize the awning room as a sleeping quarter. We located a killer campsite just below the mine, along side Mineral Creek....
585 on the way to camp...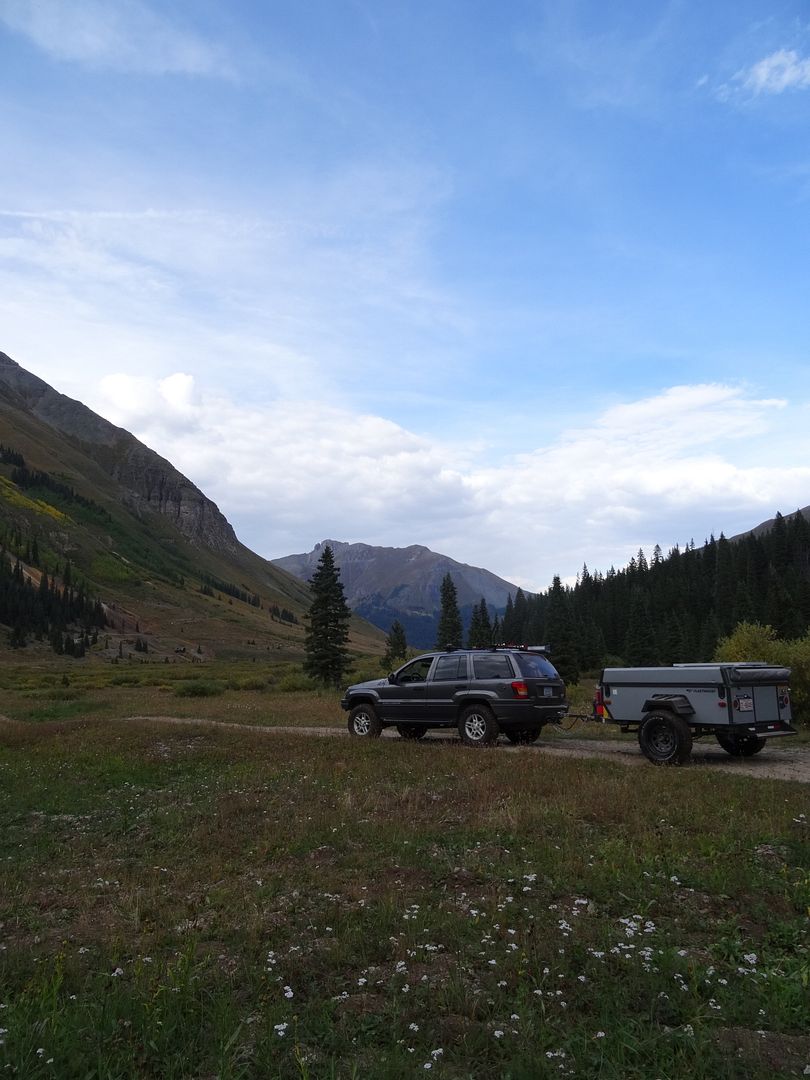 ...our home for three nights just below what remains of the Bandora Mine.
Day Three: Taming the Black Bear
For our first real day of four wheeling we decided to check out Black Bear Pass. I should side bar here and state that by "we decided to check out..." really meant that I looked over the guidebook and decided on our own that we were going to hit Black Bear and over to Imogene. We had a decent breakfast that morning, packed things up and bounced our way back out to Hwy 550. Apparently the first time that I discussed our plans with my dad that we were going to hit Black Bear Pass was when we made the left hand turn at the trailhead. Dad mentioned "I read that we really don't want to attempt this trail if its going to be raining." The weather forecast for the week was hit and miss, there would be no perfect day to attempt this trail so I felt there was no better time than the present.
The beginning of the trail was pretty mild and worked its way up to some fabulous vistas.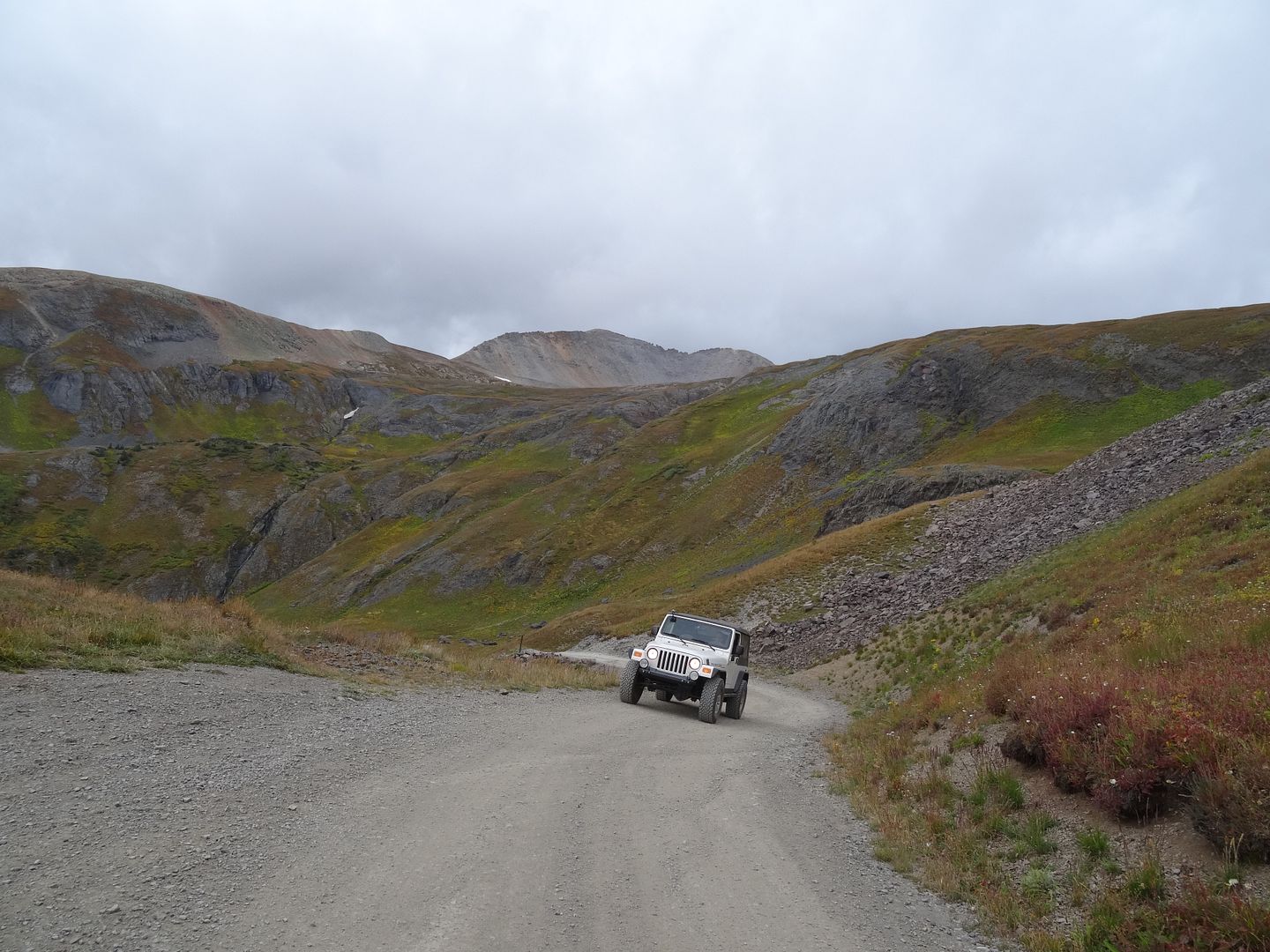 The WJ on her first mountain pass.
Here we are dropping down after the "summit" of the pass. Things changed a little when we were at the top of the pass. Light drizzle moved in briefly while we were taking pictures and we joked "its almost cold enough for ice". Before we got into the jeep it began to sleet. We thought that we could drop down in elevation a bit on the back side, towards Telluride, and we would be out of the ice. We jumped in the Jeeps and took off. Several vehicles caught up with us at the top and were now following behind us at a distance. The ice indeed did stop as we dropped in elevation and the drizzle was on and off.
Things became even more interesting as we worked through a twisty portion of trail, which while dropping down hill I completely flexed out the WJ. Things were going well, I could hear the passenger's side tire stuff up into some plastic and then we heard a "clunk, ping...ping...ping". Immediately I knew the ping sound was my front driver's coil bouncing down the trail. I was infuriated because I had installed upper and lower spring retainers. Tyson jumped out of the Jeep and retrieved the spring. We pulled down a few feet and level the Jeep out some. I was able to find a flat portion of ground off to the right side of the trail. I was a bit hesitant to even pull off the trail because I believe strongly in Tread Lightly, but I felt this was our only option. I knew how to fix the problem, deployed the Hi-Lift, and about an hour later we had the spring back in. I slightly adjusted the spring retainers with a BFH and hoped for the best. We made a few jokes about how we were glad this didn't happen on a tight switchback or my OME spring may have been lost forever. I flexed the Jeep to the max a few more times descending into the bad switch backs but the adjusted spring retainers seemed to be holding. We continued down the trail until we reached a point where I was wondering where the trail went as it seemed to just drive us off a cliff.
I will admit, I was a bit nervous dropping into the difficult one-way portion of Black Bear. I knew that I had the experience, I knew the Jeep was in good condition, but it is a fact that any mistake here could be fatal. Nevertheless we pushed on down this amazing trail. Our minds and conversation immediately began to dive into the topic of how in the world would anyone use this pass back in the mining days, or was this a dedicated four wheeling trail. Either way the fact which we were driving this close to such a sheer drop off was crazy!
Bridevail Falls. How-in-the-world did they build this structure here.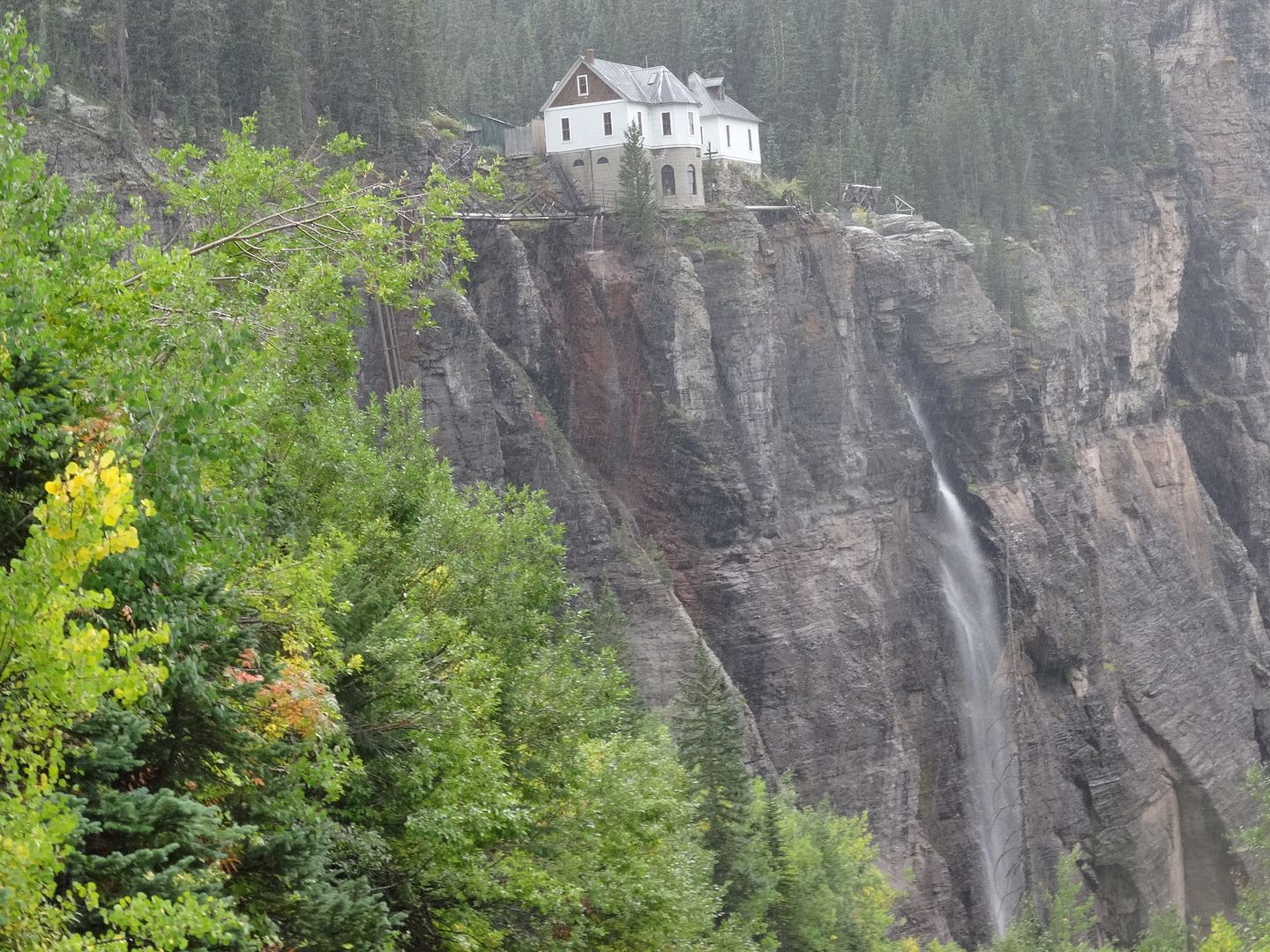 We made it into Telluride for a late lunch around 1:30PM. I have read mixed reviews about this town. I appreciated it for what it is, as there are similar towns near where I live. I found it interesting that there were no food or retail chains here. We ate at a pretty decent pizza joint called "High Pie Pizzeria and Tap Room".
After a short time checking out some of the stores we were back on the trail and headed up Imogene Pass. This trail would end up being one of my favorites but I would be spending the time in the passenger seat. I drove Black Bear Pass and I wanted to share the wheel time with Tyson, who has expressed interest in purchasing his own Jeep or ExPo rig. It was extremely difficult letting someone else drive my rig.
One of the best views I've ever seen, taken just above the Tom Boy Mine area.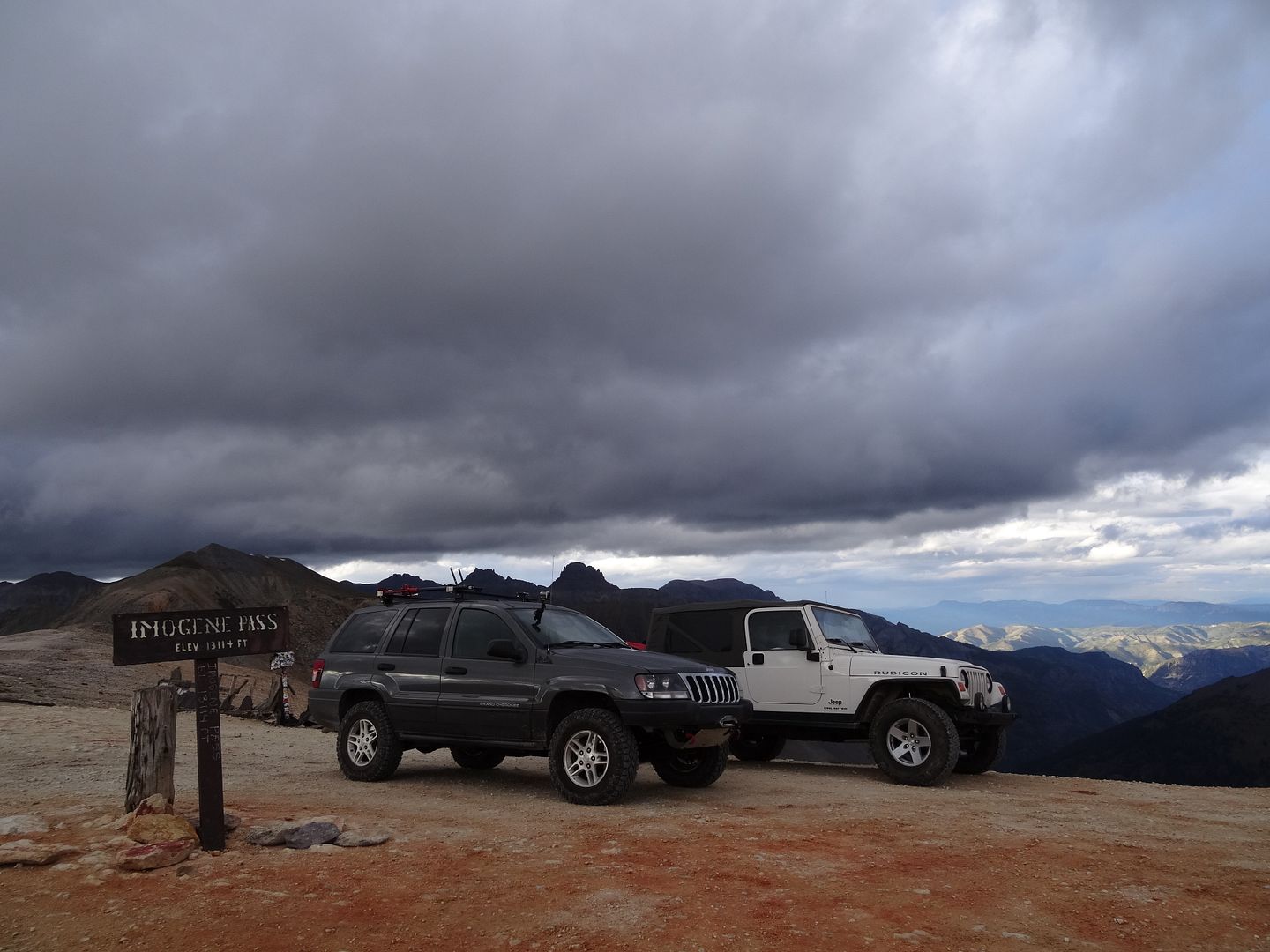 Weather rolling in again!
We finished out the trail and rolled back into camp in the dark. Chicken and wild rice soup rounded out the evening.
Day Four: I think I missed a turn.
I should have mentioned a discussion which we had last night after returning to camp from Imogene Pass. This trip did not have a carved in stone itinerary. Loosely we had planned to spend only one full day in Colorado and then begin to work our way to Utah via Ophir Pass, then some pavement to Gateway Colorado where we would seek the dirt again via John Brown Canyon. I knew that it was between 2 and 3 hours from Silverton to Moab via main roads and as a group we were ok with making it a full day of dirt and scenery since that was the focus of this trip. On our first day in Colorado I didn't get as many trails accomplished as I wanted to and mainly we had missed doing Poughkeepsie Gulch. I didn't know anything about this trail only that it seemed to be the difficult "to do trail" in the area. After a short discussion and a lot of "it doesn't matter to me" we decided we would cut one day from Moab and spend an extra day in Colorado.
Fast forward to 0700, my alarm is going off and the rain is coming down like "cats and dogs". After sleeping in until 0800 and then cooking a soggy breakfast under the rear awning and getting everything ready with the Jeep we set off. I had the intention of going up to Animas Forks and then hitting Mineral Creek from the back side, jumping over to Poughkeepsie Gulch and then exiting on Corkscrew. We drove up to Animas Forks up an easy but ever so annoying road. It was neat driving through Silverton even though we didn't stop. It seemed like a town where I could come hang out at. There was a section of roadway just outside of the town which had mine carts suspended from a cable car running up a mountain. It seemed like they just turned off the plant one day and that is where they stopped. Animas Forks was a neat tourist attraction to check out. Tyson and I were starting to get into the whole mining thing and it was interesting to see the remains of a well preserved town. After disembarking from the remaining tourist at Animas we set out. There was a decent amount of traffic in this area with all of the vehicles taking the Alpine Loop. We were not taking said loop and set out for Mineral Creek, or so we thought.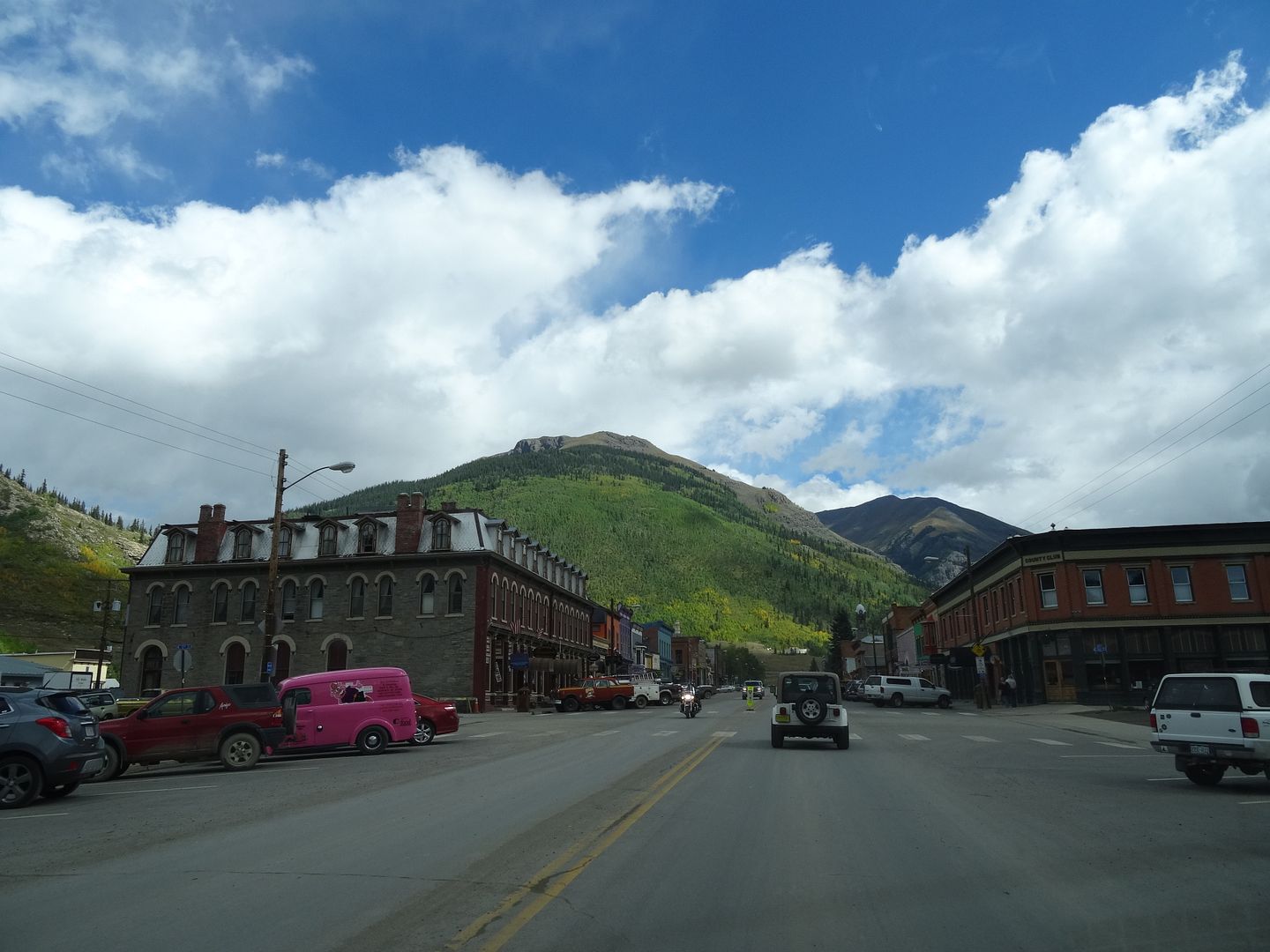 Animas Forks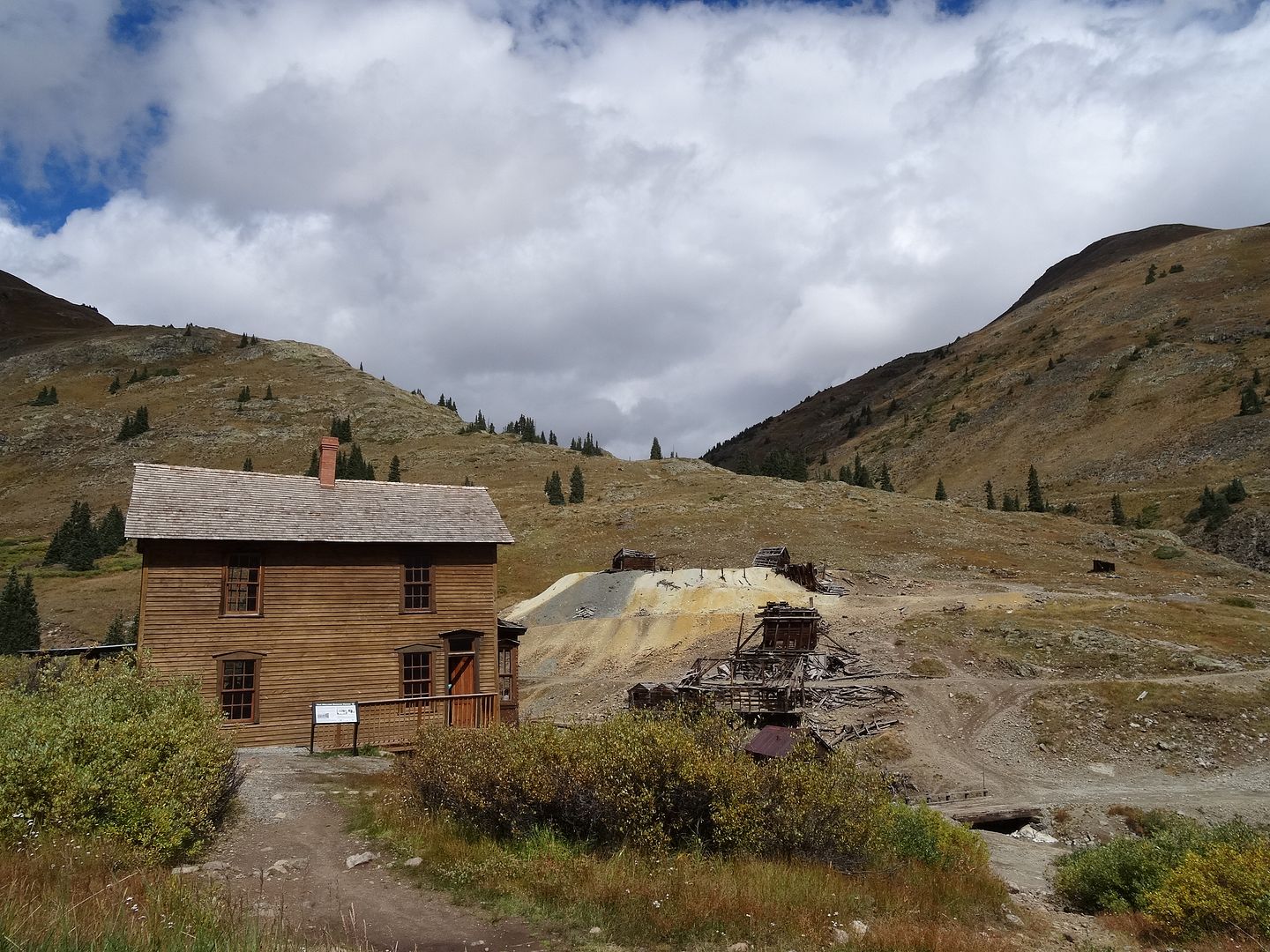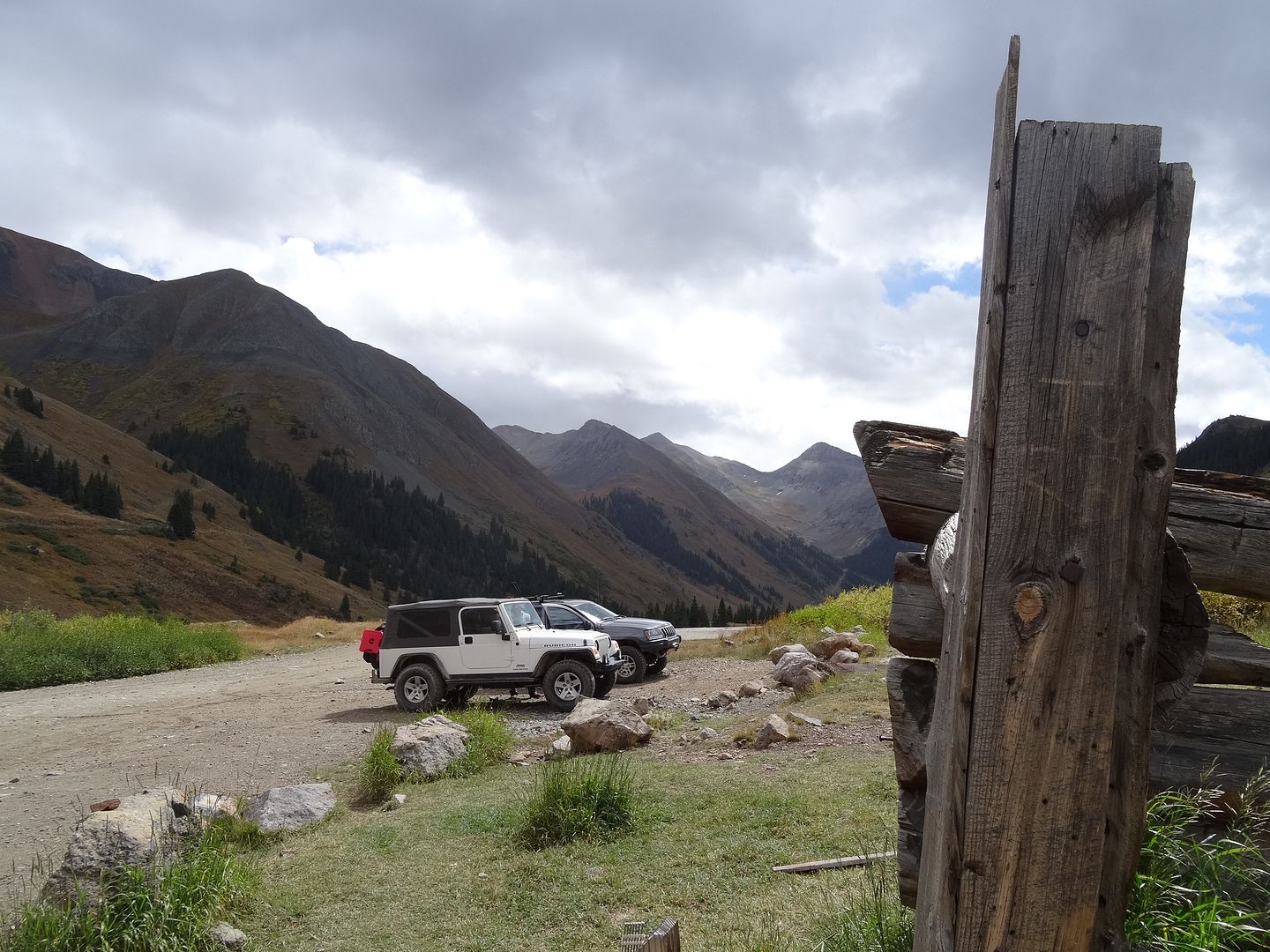 Things were going well until I missed a turn. Apparently I should have made a right just past Animas Forks across the river to continue up the road until I hit Mineral Creek. I instead continued straight at said fork and ended up on California Pass. It wasn't until a good ways later when I realized it, as we were climbing up to the pass. I checked out the book, realized my error but decided to truck on. I blame the scenery for the missed turn as this area of the mountain was displaying every color imaginable. We made it to the top of California Pass where it was chilly with some slight snow/ice. From this picture you can see California on the right, Poughkeepsie going down in the middle just to the right of lake Como, and Corkscrew going to the left.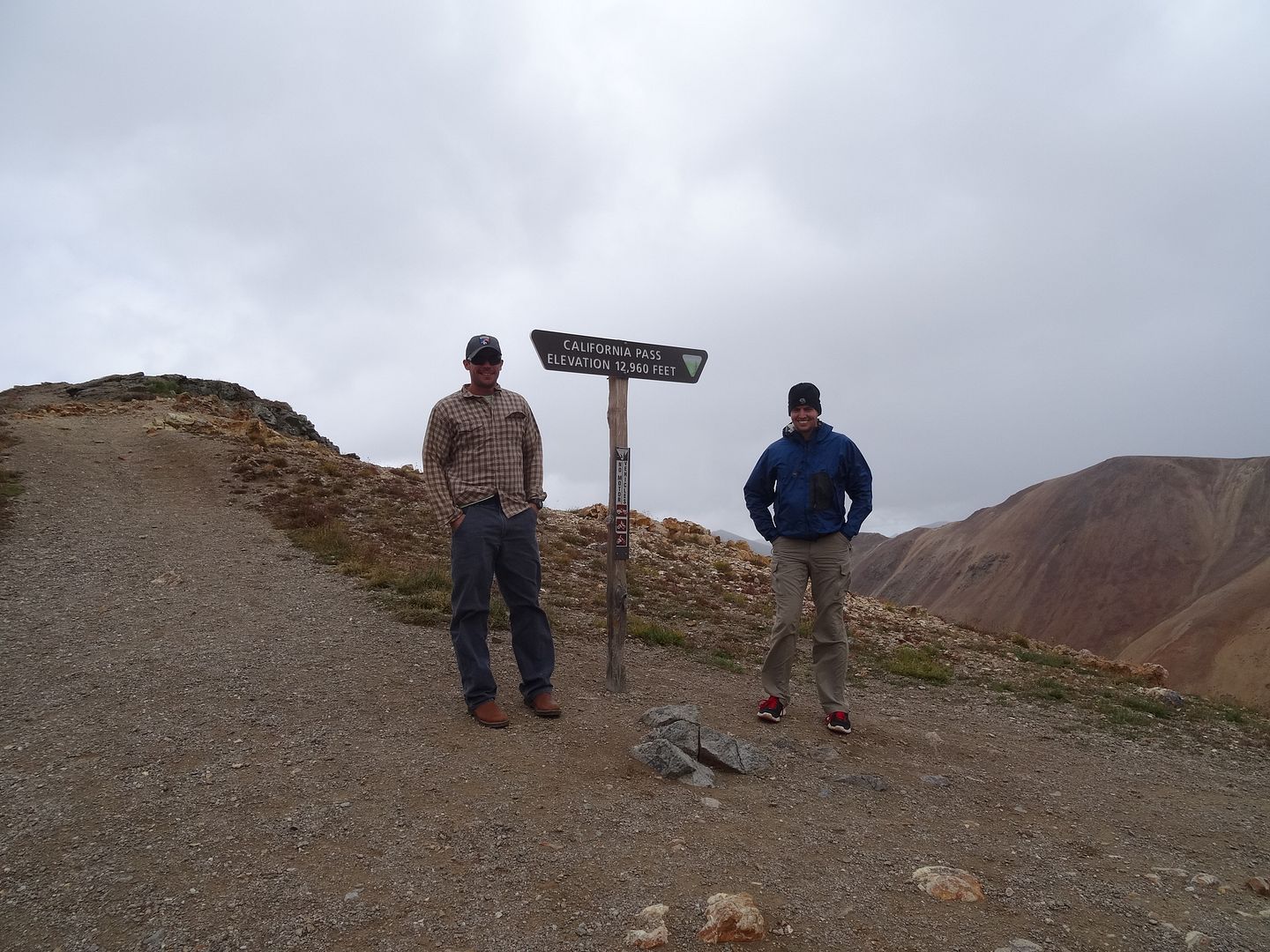 We drove down from the top of the pass to the trail intersection with Poughkeepsie. It was chilly with the wind blowing so we decided to eat in my WJ. A lone rental JK Rubicon drove by which prompted a discussion how you shouldn't wheel alone. After eating we embarked down Poughkeepsie.
Dad dropping down into the trail.
The WJ climbing some unnamed wall before we dropped down to a hard obstacle called "The Wall". After this picture I made a hard right turn and flexed the driver's side tire up into the wheel well and ripped the washer motors out of the reservoir. Everyone freaked for a moment because the Jeep was gushing fluid but before I even got out to check it out the Jeep was dinging at me about low washer fluid. I also ripped out the wires for my rock lights which was more of a bummer to me. I intended to move the washer reservoir eventually anyways, now that just got bumped up the list. I zip tied everything out of the way and we continued. We ran into the rental Jeep guy who was wisely on his way back. After some comments about how he couldn't believe the WJ was doing so well we continued on.
Just above the obstacle "The Wall" we ran into two Jeeps and an H1 Hummer. The Jeep guys recognized us as the WJ on Black Bear with the missing spring. We talked a brief moment about my trail fix and then they started to give me warnings about getting in over my head with the WJ on this trail. I appreciated the concern, but really guys, give ole Lola a chance to prove herself. We continued down to "The Wall" despite our ominous warnings to turn back. I checked out the obstacle, formulated our planned descent lines and we got at it. It began to rain heavily which didn't help.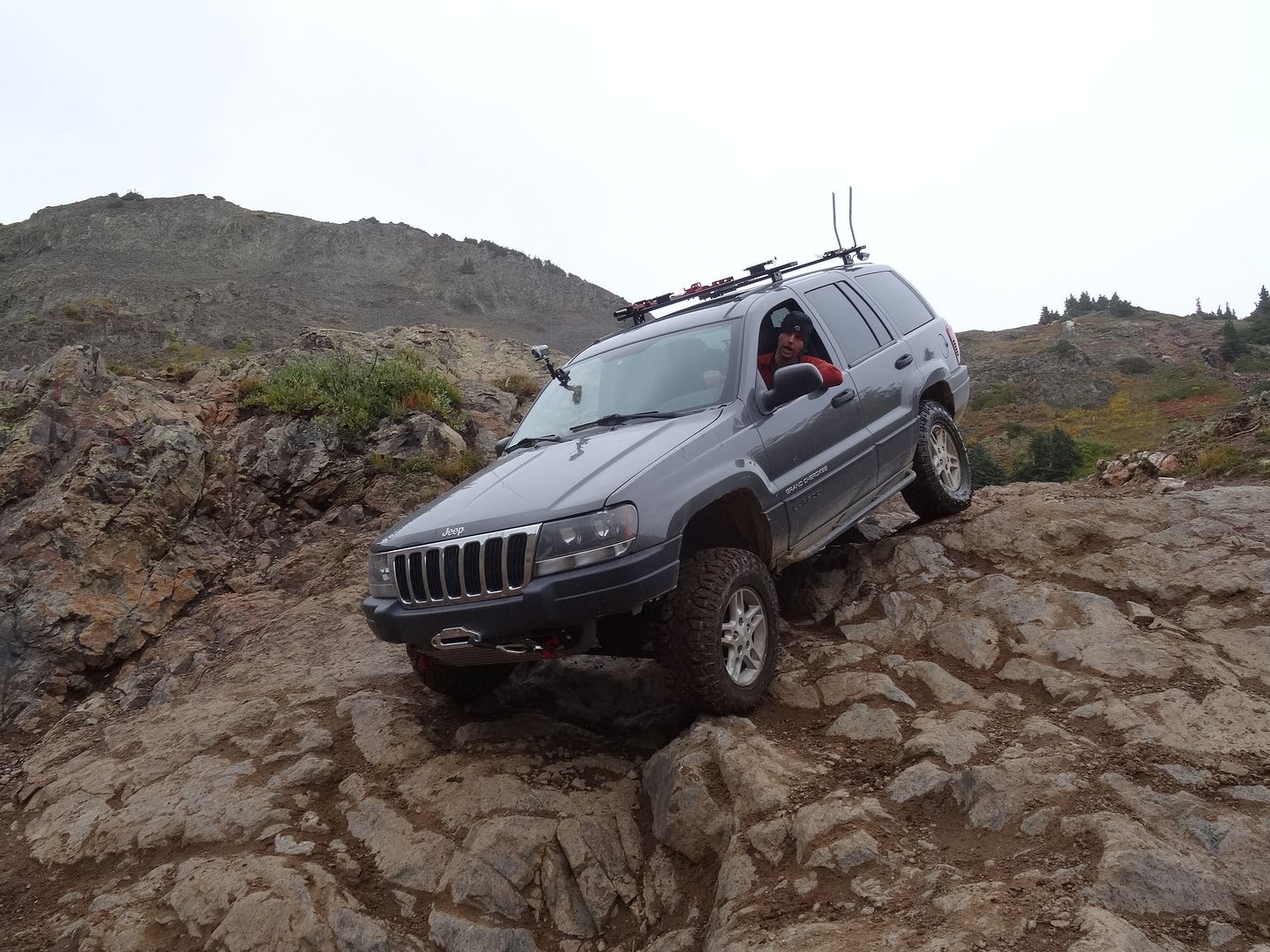 We continued down Poughkeepsie with the intentions of hitting Mineral Creek. With all of the trash talk that I had received about the WJ I had some internal conflict about needing to prove her worth by going back up the trail. So I convinced dad, who has a very cool attitude about trying anything, to turn around. We headed back up. I let dad lead as the guidebook warned about a "steep loose rocky area which is difficult for vehicles without lockers". Lola did fine and we made it back to the base of "The Wall". Everything was soaked from the on and off rain. I drove up to the wall, climbed the smaller bottom ledge with ease and about made it half way up before vertical momentum and climbing came to a halt. Time for the winch. I winched up with no problems, turned around and winched dad up. Apparently all of the previous vehicles had to winch also. At this point I switched driver's with Tyson and let him have some experience with difficult sections. He did well, only got us high centered once. We made it back up to California and took a right turn on Corkscrew. Corkscrew was uneventful. The trail was beautiful and we could still see the red rock mountains but Corksrew added a hint of yellow soil, and farther down bright yellow leaves from the changing trees. Oddly enough we passed an elderly couple in a Mazda SUVish vehicle. They were puttering up Corkscrew and went by us like they didn't have a care in the world. I hope they were able to turn around at the pass safely and I felt a bit guilty for not stopping and warning them they may be in over their heads. But, at the same token everyone was warning me about the WJ and I was already sick of it.
Corkscrew could be dangerous. Especially with days like today, the mud was slick.
My take away from today should have been to focus more on navigation. I think I took for granite that I was experienced and these passes should be easy to navigate and that cost me. While it all turned out ok, we will make similar mistakes in the future that shouldn't have happened. On my next trip I will be plugging in some GPS coordinates and paying attention to them. We made it back to camp after dark. Another late night meal which was thankfully prepared by my lovely wife before we disembarked on this journey.
Last edited: