Hey All,
I just put my deposite down yesterday on my new trailer. So I thought I'd start a long winded build thread for some help and ideas when needed and documentation of the build in case it helps anyone out like all the threads I've already read on here.
For the past couple of years, I've been camping around with this: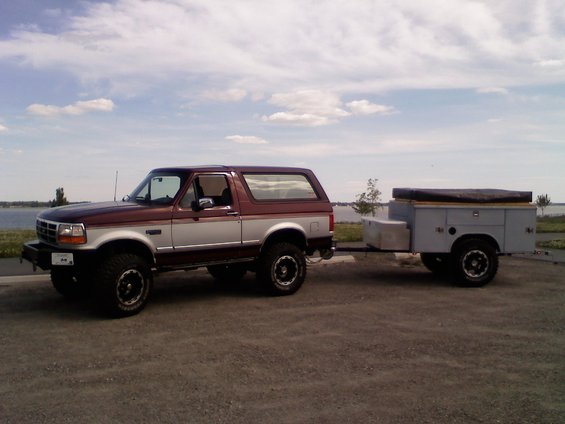 It is/was an all aluminum utility bed on a custom frame
(that is still for sale)
, with an Eezi-Awn Globetrotter on top. It was a great setup, and could follow my Bronco anywhere, but setup/tear-down was a bit more time consuming than I liked, it's still canvas, so rainy weekends sucked, and it didn't work out as well with a young kid and dog as I would have hoped. Also, I wanted something that would allow me to take my motorcycle with me. I contemplated just extending the tongue and placing the bike sideways up there, but in the end, I figured that wouldn't work out very well because of the extra width of the bike (7'-3") and the tongue weight it would add.
So I started looking at new ideas. Taking what I like about my old trailer and my new requirements, these were my criteria, basically glamping:
- Off road/rough road ability. Rough forest service roads and short trails, not the Rubicon.
- Ground clearance.
- Tires matching the Truck (35x12.5)
- Track width and overall width matching the truck
- Outside kitchen
- Hard sides
- Comfy mattress
- Heat and hot water
- Able to fit the motorcycle
- Beefy Frame
- Storage for equipment
Maybe a pop-up? A used Coleman Graphite (10' box) almost came home with me one day, but I'd still have the problems of the canvas and the the cycle being sideways. A teardrop? Really like those, especially the kitchens, but still the problem of the cycle.
What I decided that I wanted was a toy hauler of some sort. My problem is that I'm towing with a '96 Ford Bronco, and the size weight of most available toy haulers would REALLY hurt my highway driving ability even with a nice 351 V8. I hate the fact that almost everything in the RV industry is SO large. I mainly just want someplace to sleep, keep supplies, and get out of bad weather. I came close to buying a brand new toy hauler that I found on-line that was only 13' long x 7.5" wide. Went to the dealer, and the company stopped making them "because they were too small". That was still bigger and wider than I wanted and would require trade-offs from my criteria.
Then one day I saw this: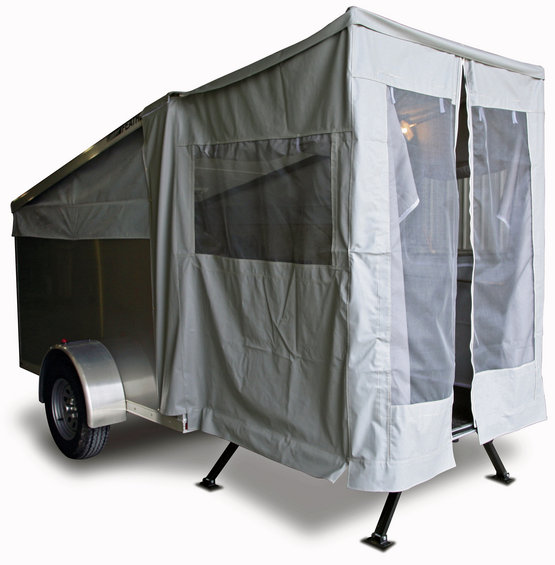 I thought that was such an awesome idea. Called the company and almost bought one, but they stopped making the narrower ones too. The smallest they make now is 6' wide. With the tires, the overall width would be more than 8', and they don't make the canvas package anymore. I also found and tried one of these:
They were cool, but I was a little concerned about the alum. trailer and not being able to work on or modify it because I can't weld alum. Also, the sizes they offer were either a little smaller at 5x8 or larger at 6'x14' than I wanted. Neither were ideal.
I thought I'd have to build my own, which I could do, but there is only so much time between work and family, and projects are taking much longer than they used to. So that is what brought me to standard cargo trailers. I continued looking around and found some places that would add custom touches. I wanted something 6' wide, but with the tires inside instead of outside. I could add the windows and doors myself, but wouldn't mind it being done for me if the prices were fair. I got some quotes from the major manufacturers that took care of most of my wishes, and would only require a few compromises and after-sale modifications.
After looking around on a tear-drop forum, I found trailershowroom.com. I really liked that I could pick all the options on-line and get a solid price quote. Going back and forth with some of the dealers was a real pain because they always seemed to make a mistake, or mis something, or just couldn't give me the options I wanted. Besides, only a couple companies will place the wheels inboard on a 6' wide version. I was able to spec the trailer out almost exactly the way I wanted it. Here is what I ordered yesterday:
- 6x12 w/ a V nose (I know it's huge, but a 6x10.5 is the smallest that would work, and they don't get THAT custom)
- 6' height (wanted to keep it as small as possible, but cycle requires about 5'-6", and the 6' height give about 5'-8" of opening at the ramp door)
- Inboarded wheels
- RV door w/ Screen
- Two 36x22 windows
- 2'x2' luggage door
- Extended tongue (5') w/ three tubes so my tailgate and spare tire clear
- another 24" door in the front for storage
- 2"x4" frame (stock is 3")
- 0.050 thick alum outer skin
- screw-less exterior
- custom axle position for better weight distribution
Here are a few drawings of the trailer setup I sent to the factory, and of the interior layout: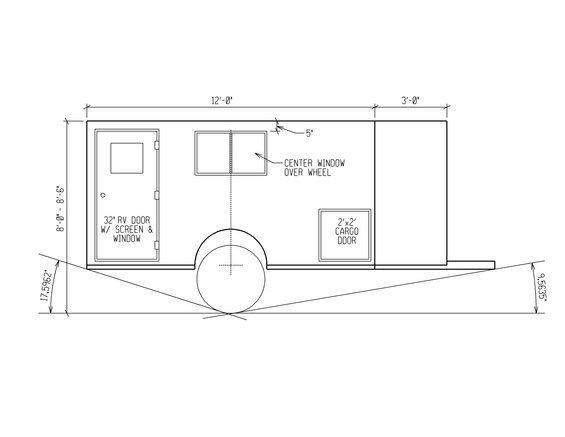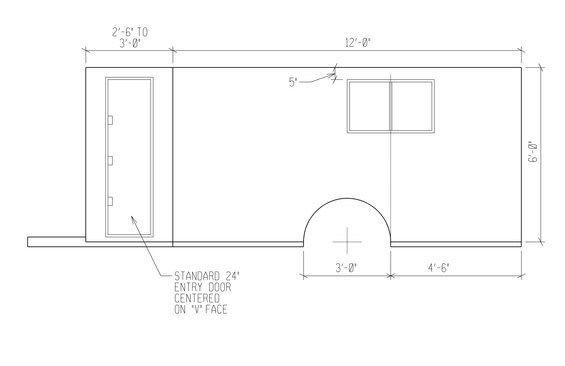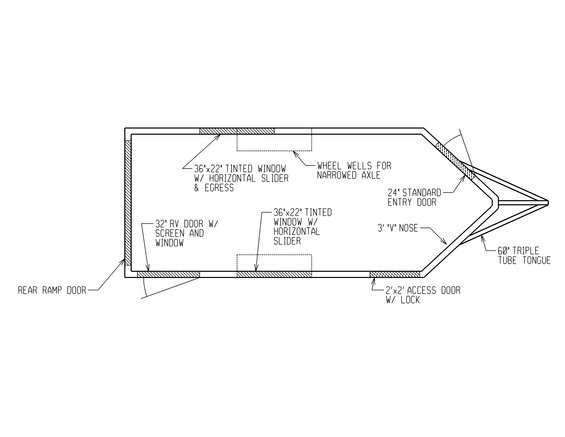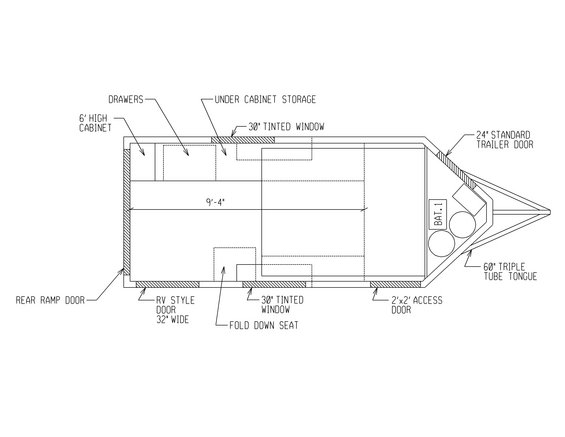 I'm going to try and sketch something up in good sketchup, but I'm not that good at that CAD system.
Basically, I'm going to build a fold up bed in the front like member Glenlivet from mikenchell.com (hope he doesn't mind me borrowing his picture)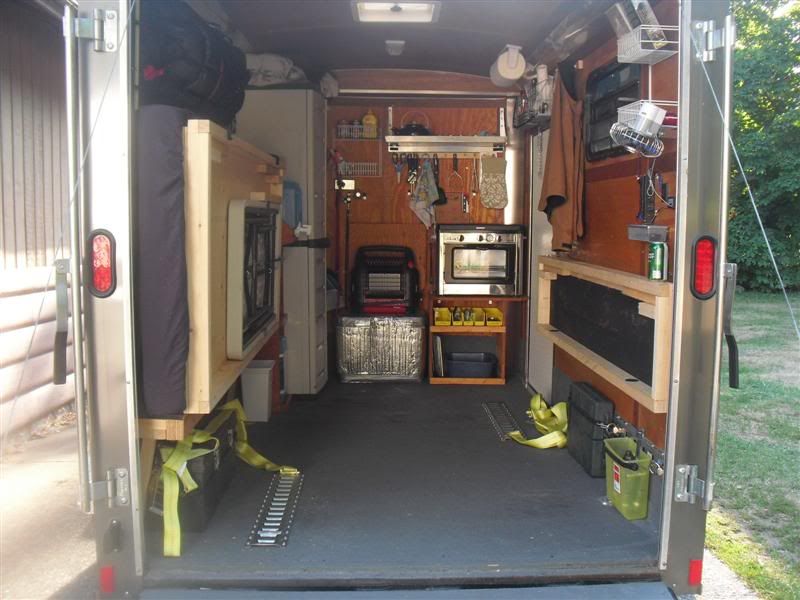 Cabinets down one side in the back with clothing drawers and storage.
Heater under one side of the bed
5,000btu wall mount AC above the cabinets in the back.
As my son gets older, I'll make a tent/porch out of the rear ramp door like the one pictured above, but for now he'll just sleep under our bed.
Storage for batteries, EZ-up, propane, chairs, porta-john/bath tent, etc. up front in the V closed off with a wall from the rest of the trailer.
Water tank, on-demand water heater, pump, and outdoor shower.
A car/boat stereo w/ TV and DVD player.
Jacks at the back corners and on the tongue to level things out.
Custom suspension and new 3500lb axle with electric brakes and cable parking brake (I didn't want to try to explain to the company I was going to put 35s on it, and why I wanted a "special" axle, so I'll just sell the stock axle and buy a new one).
A slide out kitchen coming out of the 2'x2' door on the side like this: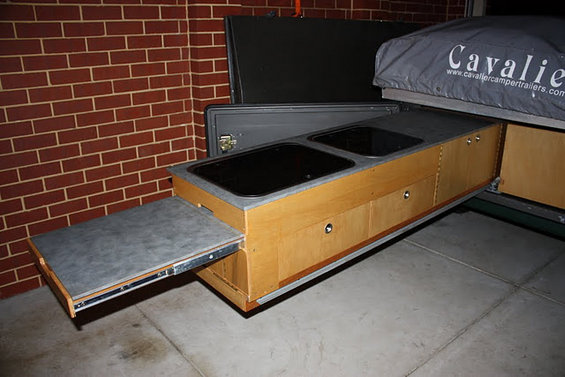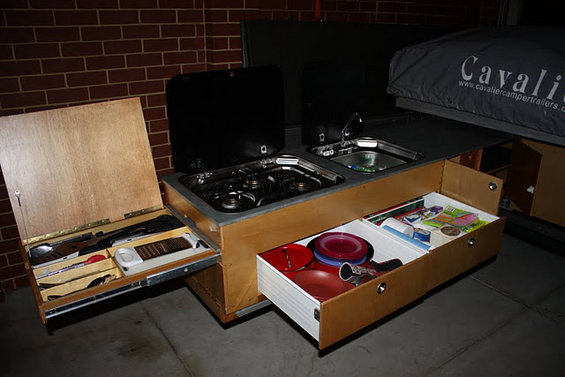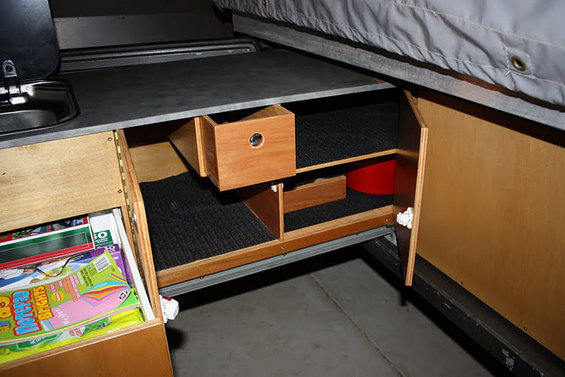 The trailer was supposed to be finished in mid to late January, but I just got told today it will be done by the end of the year, and I'll have to take a 12 hr drive down to Georgia to pick it up. Not really a big deal since we can just make a mini-vacation out of the trip. It's a little nerve wracking to buy something like this off of the internet, but I've heard good things about them and I've got my fingers crossed.
I think that's pretty much it. Not the typical trailer we see here, but I spend more time on here than any other site, so I wanted to add my build. I'll be getting and filling in some additional info here as I make plans. Let me know of any questions or comments.
Don
-