Rock Sliders / Door Guards
So as the trails got more difficult, I noticed the rocks and obstacles were getting closer to the rocker panels. I hadn't yet made the mistake of body damage, and only had a couple minor scratches in the plastic. However, I realized the signs and decided it was time for some protection, and it was time to take the next step in my vehicle's ability.
I contacted a local fabricator in Manassas, VA,
Freaky Tree Fabrication
and we got to work making a custom set. I set out looking for a simple set of sliders, but the fabricator had an interesting concept that would follow the vehicle lines and protect the rocker ends well. So I gave him the go ahead.
Here we are doing a test fitment, the tubing is 1-3/4" DOM, 1/8" walls (same stuff that most roll cages are made of):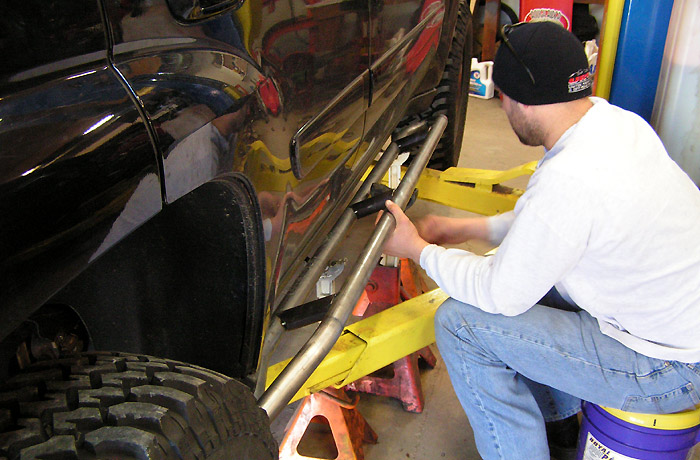 I've seen some people tear the lower rocker panel off the vehicle in order to mount the sliders slightly higher. Eric and I looked into this as an option. The Trailblazer has a body seam that runs directly behind the panel, and is as low as the panel (except at the ends). So we worked around those ends by incorporating this fancy artistic (yet functional) end design: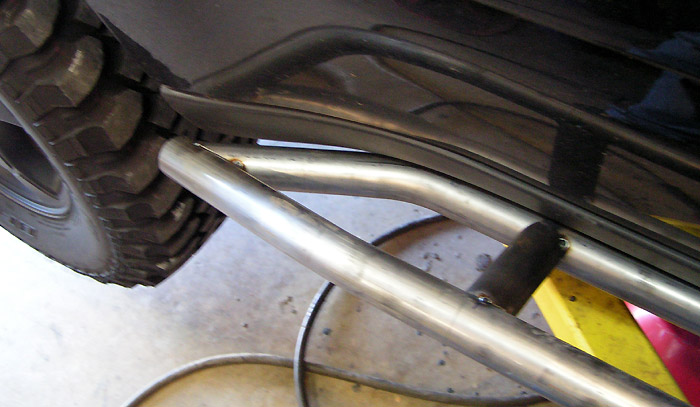 The rocker panels also hold a piece of the door weather stripping. There is an outer strip that runs along the bottom of the door. Being that I drive through mud and creeks, I thought I could use all the sealing possible.
We went for weld on, as a bolt on option would just be too much trouble for it's worth. To aid in the strength, Eric added in the corner gussets. It was amazing the difference in rigidity before and after the gussets. They had a good amount of vibration without (as in, if you hit the slider, they visibly vibrated), however once the gussets were added, the slider didn't move a millimeter.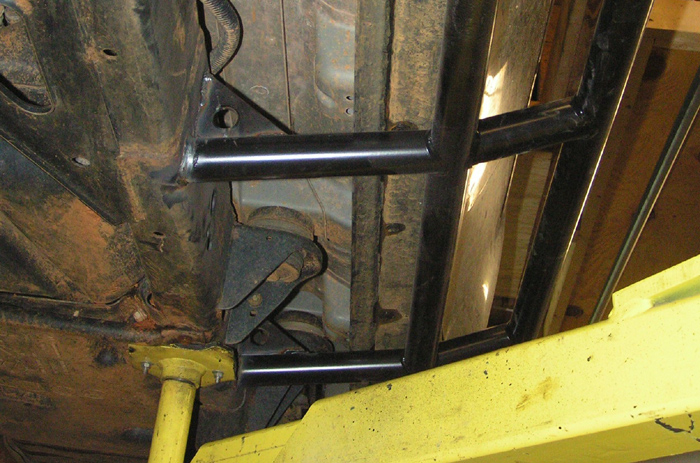 I went for powdercoat. I'd seen brush on bedliner that just scraped off sliders, and I'd seen professional bedliners get scuffed off too. I thought a durable and smooth finish would be best for something that would be used to 'slide' over stuff. Final product: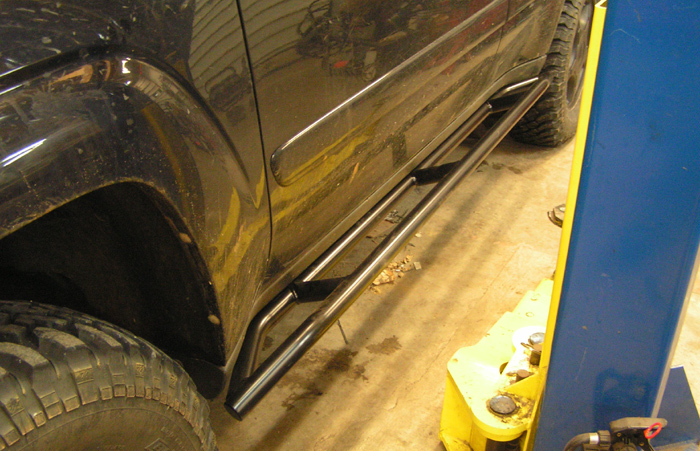 We decided to do a load test and verify their strength. Notice the very slight bend in the tube once the full weight of the driver side was on the bar. Also notice how they stick out 1/4" from the tires. This was done so that the rocker would also guard the side of the vehicle if I needed to pivot around a tree or other vertical object.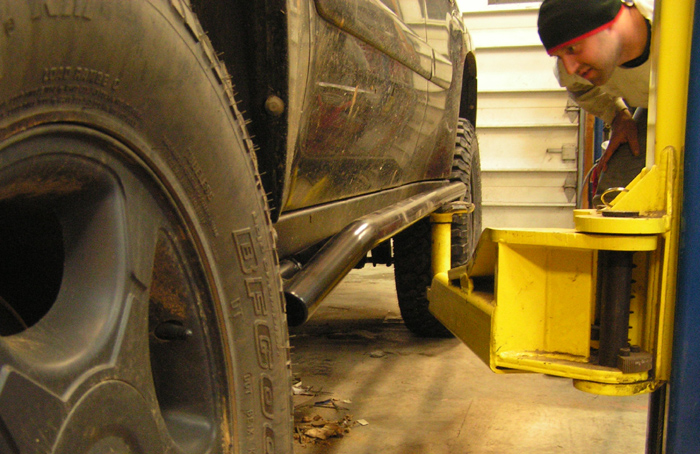 These suckers are strong.
Here's a decent picture of it not in a garage that shows the unique shape: