So here's the situation that I am looking for some "professional" advice on. When I purchased and installed a CB in my 100 series, I was told that I could use the same wiring for a Ham down the road. I went cheap on the CB knowing that I was going to get my tech license and recently decided to finish cleaning up the install of the CB. Here's the current setup and plan:
Midland 75-822
Coax running through the fireall to a NMO PS fender mount
PCTEL antenna
My set up right now is very similar to
TheForger's below
as shown on Mud. I also recently purchased a UHF Female SO239 to UHF Male PL259 flange mount that I plan to install on the center console to connect the CB and coax/antenna so the cables won't be hanging in the foot well as below.
When I passed the technician's license exam last year, a friend who I took the test with convinced me to get a HT (getting a mobile is still in the plan later this year). So I purchased a Baofeng UV-82HP. If possible, can I use the existing coax and NMO mount for the UV-82HP?
I'd need to purchase the
Battery Eliminator with DC Adapter
, a right-angle connector/coax/PL259 to run to the SO239 flange mount, and a new antenna.
Is this even feasible? If so, what antenna(s) should I be looking at? And can I leverage the same infrastructure once I go mobile?
And last, the other day I was reading on
KOBG.com
yesterday that I may want "
to wind a choke using a mix 31 split bead
" since I've got a lot of excess coax in the PS foot well. Is this necessary or recommended or just dependent upon the tuning/testing the antenna.
Anyway, thanks in advance for Expo's collective advice!
Photos: Battery Eliminator
Right angle connector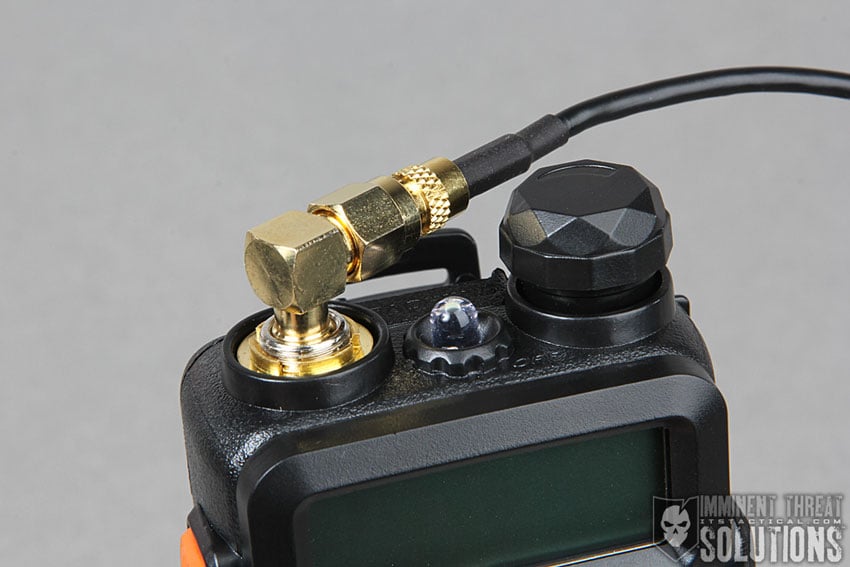 HT connected to External Antenna
Choke