In what seemed to be our never ending quest to find the ultimate family adventure vehicle, We have finally found what we feel will be our memory maker... It's white, straight front axle, locked 3 times, has a high payload capacity, very safe, reliable, and most of all for the wife and kids... it's very comfortable. When my wife is content, and our boys are happy, and I am focused... we can all concentrate on our next adventures and memories that will ensure. Enjoy...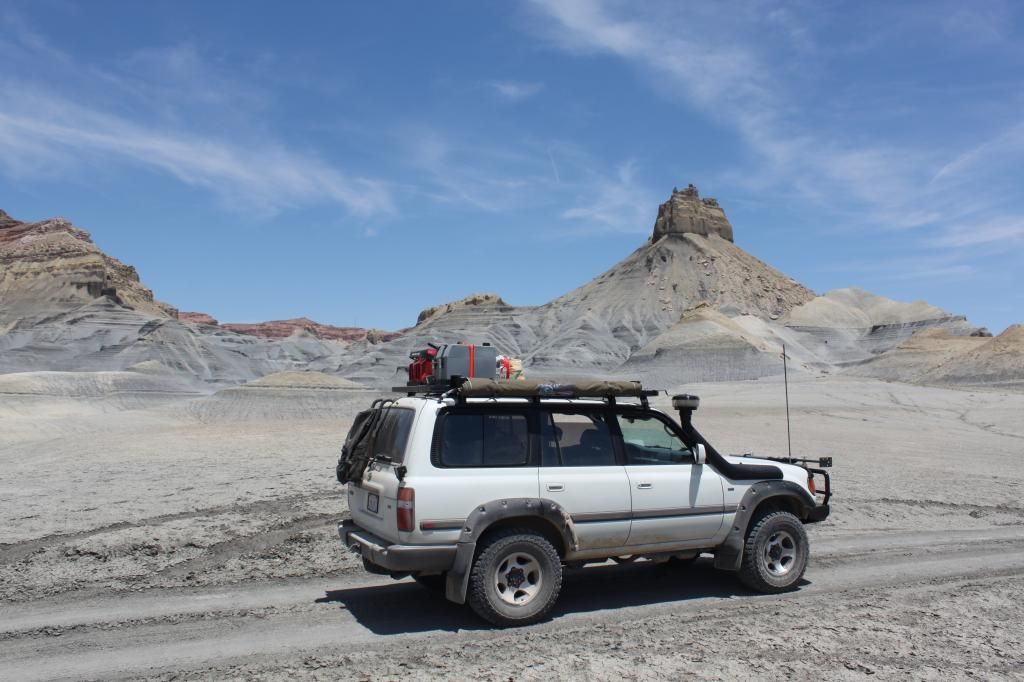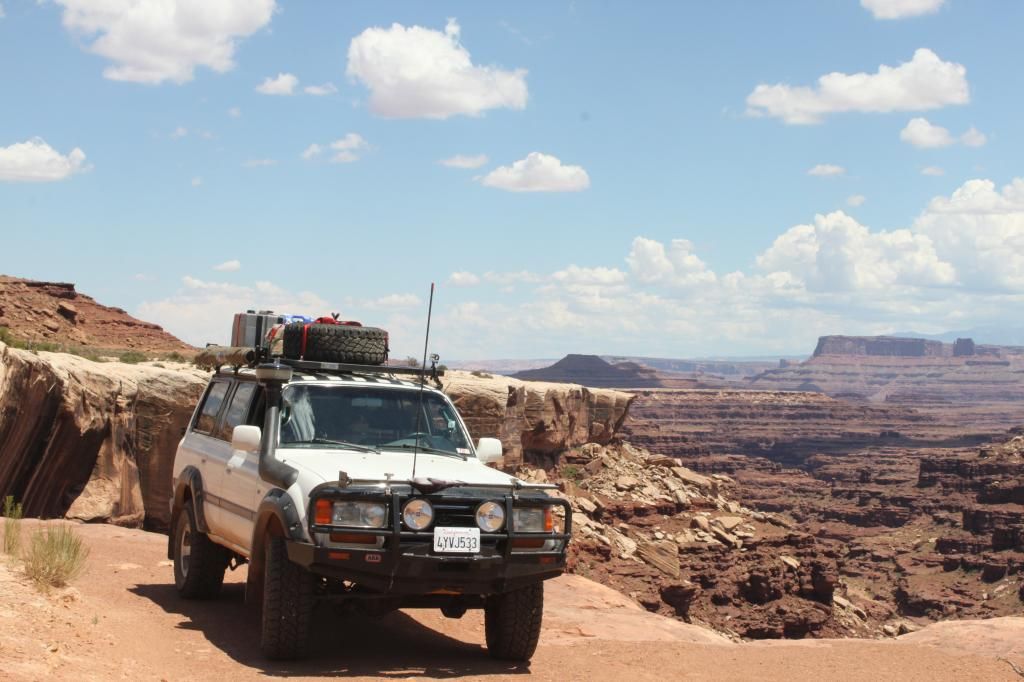 1997 Toyota Land Cruiser Collector's Edition FZJ 80
Vehicle Specifications
4.5L I6 DOHC 24V FI Engine
Horsepower: 212 hp @ 4600 rpm
Torque: 275 ft-lbs. @ 3200 rpm
Factory Locking Front and Rear Differentials + Locking Center Differential
Gross weight: 6470 lbs.
Curb weight: 4751 lbs.
Total Payload: 1719 lbs
Maximum towing capacity: 5000 lbs.
Fuel tank capacity: 25.1 gal.
OEM Parts Removed
Chrome Wheels
3rd Row Seating and Passenger Belts
Running Boards
Spare Tire Mounting Bracket - Reinstalled-Removed again and tossed in dumpster while in Moab.
Rear Tow Hitch
Front and Rear Tow/Recovery Points
Front Bumper
Fender Flares
Roof Rack
Rear Spoiler
Vehicle Modifications and Expo Additions
Toyota OEM Center Differential Switch
Pin 7 Mod
Scanguage 2
OME 861 Front Springs
- Removed
OME 862 Rear Springs
- Removed
OEM Dark Gray Clam Wheels
Nitto Terra Grappler 295/75 16
- Removed
Baja Rack Utility Flat Rack
- Removed
ARB Awning 2500 (8.2 ft.)
- Removed
Toyota OEM Front Mudflaps
OME 850 Front Springs
OME 863 Rear Springs
OME Nitrocharger Sport shocks
OME Steering Damper
1" Ironman Front Coil Spacer
MAF 4+Plus Front 2" Control Arm Caster Correction Brackets
- Removed
MAF Front and Rear Sway Bar Drop Kit
Ironman Front and Rear Panhard Rods
Adjusted LSPV
AJIK Modified OEM Fan Clutch with 15,000cst oil
Safari Snorkel
K and N Drop in Air Filter
- Removed
1FZFEPHH.COM
Gates Green Work Around PHH kit and Firewall Heater Hose kit
DieHard P1
NGK V-Power Spark Plugs
- Removed
ARB Deluxe Winch Bumper
Hella 4000 x2
TOYO Open Country MT 285/75 16
- Removed
Eezi-Awn Series 3 1600 T-Top Roof Tent
- Removed
EA Ladder Extension
- Removed
IBS Dual Battery System w/ RBM
SleeOffroad OEM 2nd Battery Tray
SleeOffroad Washer Bottle Relocation Kit
Hi-Lift ARB bumper mount
WagonGear
cargo lid
Speski
Off-Road Cargo Barrier
FRBv2
recovery points
CoverKing Ballistic Seat Covers
Husky Front and Second Row Floor Liners
Fourrunner's
FZJ80 Heavy Duty Battery Cable Set
SleeOffroad 3* Castor Correction Bushings
SleeOffroad Lower Control Arm Frame Side Bushings
SPOT 2 Satellite GPS Messenger
- No longer using
GlobalSat BU-353 GPS receiver
MacGPS Pro
Wilson Electronics Sleek 4G Cell Phone Signal Booster
Cooper Discoverer S/T MAXX 285/75 16
Pocket Fender Flares w/ Stainless Steel hardware and Rivnuts
Jonesy's Pintle Hitch Rear Recovery Point
Hannibal Roof Rack
Hannibal 2M Awning
Baja Rack Twin Fuel Can Holder
Front Runner 10.57 Gallon H20 Tank w/ Twin Fuel Can Holder
Rear Ladder
Spare Tire 5" Spacer Lift
- Waist of money and time...Removed due to trail damage in Moab
Donaldson 10" Prefilter with 4" to 3" adapter
Blue Sea Fuse Block and Circuit Breaker
Blue Sea x2 USB and x2 12v outlets
Uniden Pro 520 XL CB w/ Firestik antenna
ARB 50Qt Fridge
yodaTEQ Antenna Mounts v2.1
Yaesu FT-2900R 2M w/ Hustler antenna
Front Runner 3-inch 16w square led flood pattern with harness
x6 Front Runner Wolf Pack boxes
Mod "Wish" List / Next Up
Rear Cargo Deck w/ Aircraft Tracks
Fridge Slide
Warn VR10000
Reservoir Front and Rear Shocks
RTT/Hard Shell?
Hannibal 1.4M awning
Slee rear bumper
Engine rebuild or replace?
Preventive Maintenance
TLC Stage One:
Inspected and Certified @ 151K
Mobil 1 Synthetic:
Engine oil, Front and Rear Differentials, Transfercase
OEM Toyota Fluids:
Automatic Transmission, Brakes, Power Steering, Coolant
OEM Toyata Parts:
Valve Cover Gasket, AC and Alternator Belts, Thermostat, Waterpump, 1994 Brass Radiator, o2 Sensors, Complete Tune-up Kit, Big 3 Radiator Hoses, Intake Tube, Front and Rear Brake pads and Rotors, PCV Valve and Hoses, Modified OEM Blue Fan Clutch, Heater Valve, Air Filter, Valve Cover Bolts, Starter, Fusible Links, All Front Axle Lower Control Arm Hardware, Tie and Relay Rod Ends, Front and Rear U-Joints, Alternator, AC and Idler Pulleys, Crank seal, Oil Pump Seal, Fuel Filter, Driver Window Motor, 3 exhaust mounts... What's next?
All OEM parts ordered through
American Toyota
ask for cruiser Dan.
In the beginning our priority was to just get it baselined and get it out there.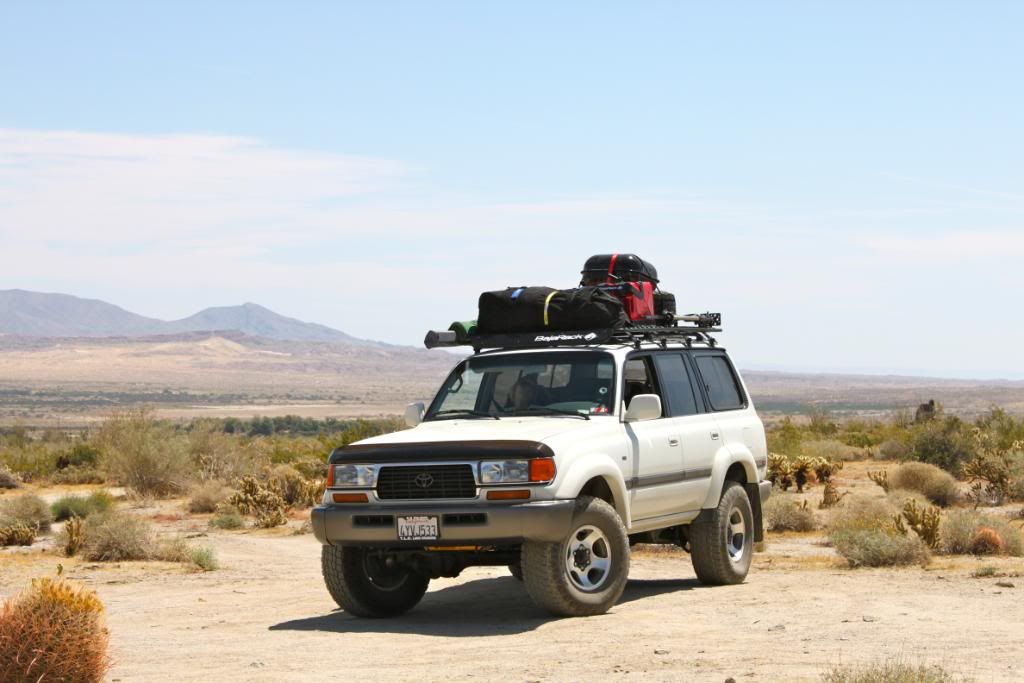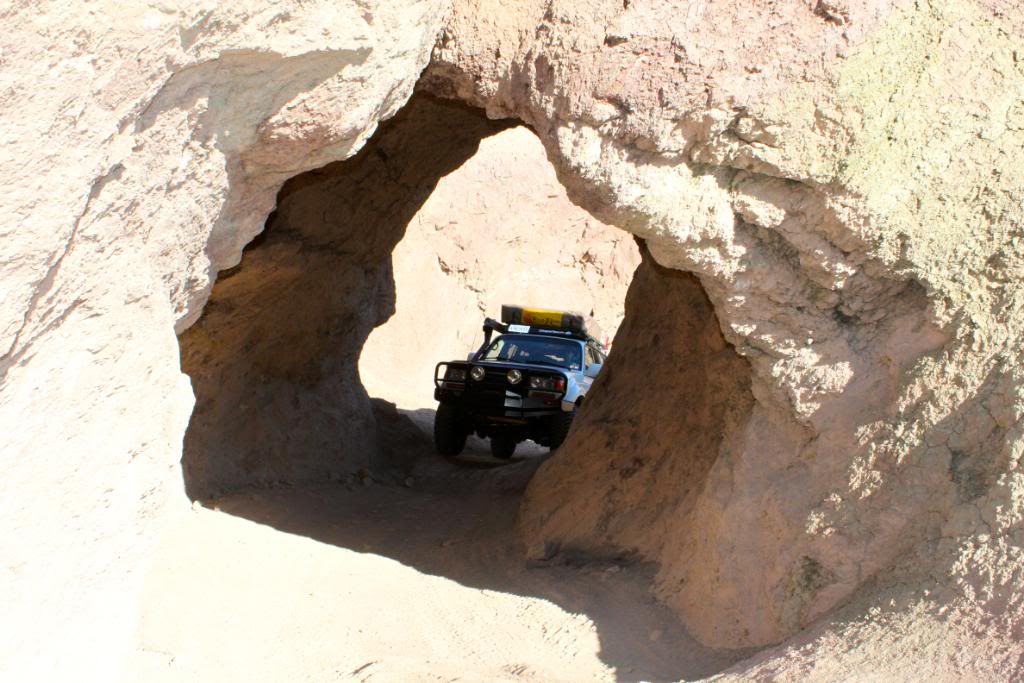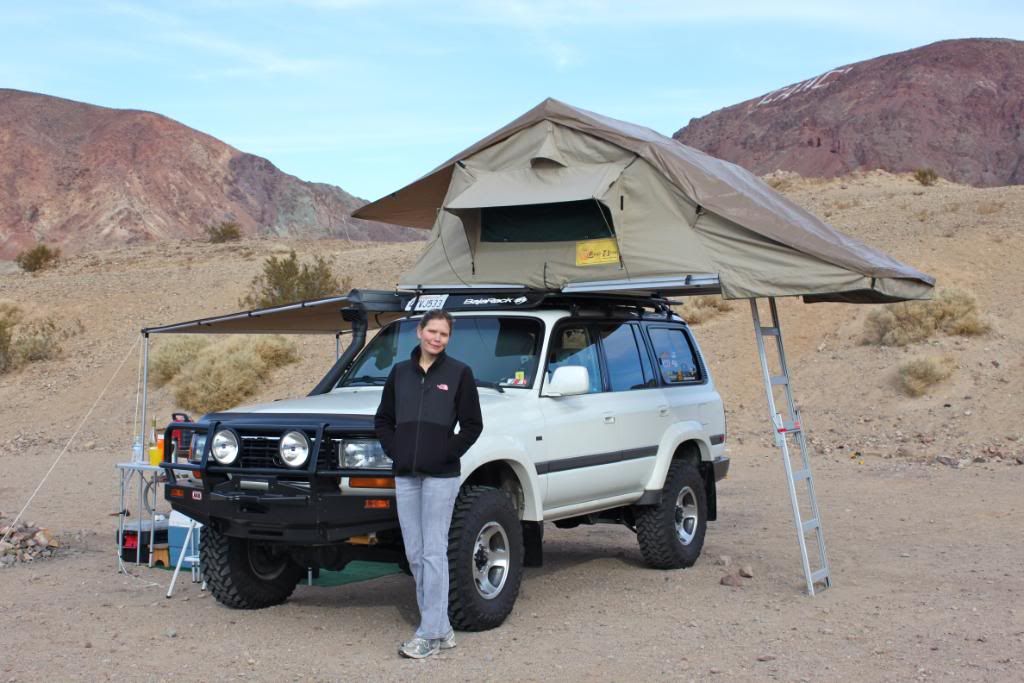 Join our family as we strive to camp more and expose our boys to all the beauty the great outdoors have to offer.
On to the Story...
Our quest started out with a brand new 2006 Nissan Xterra 4x4 Offroad model purchased a month before our first son.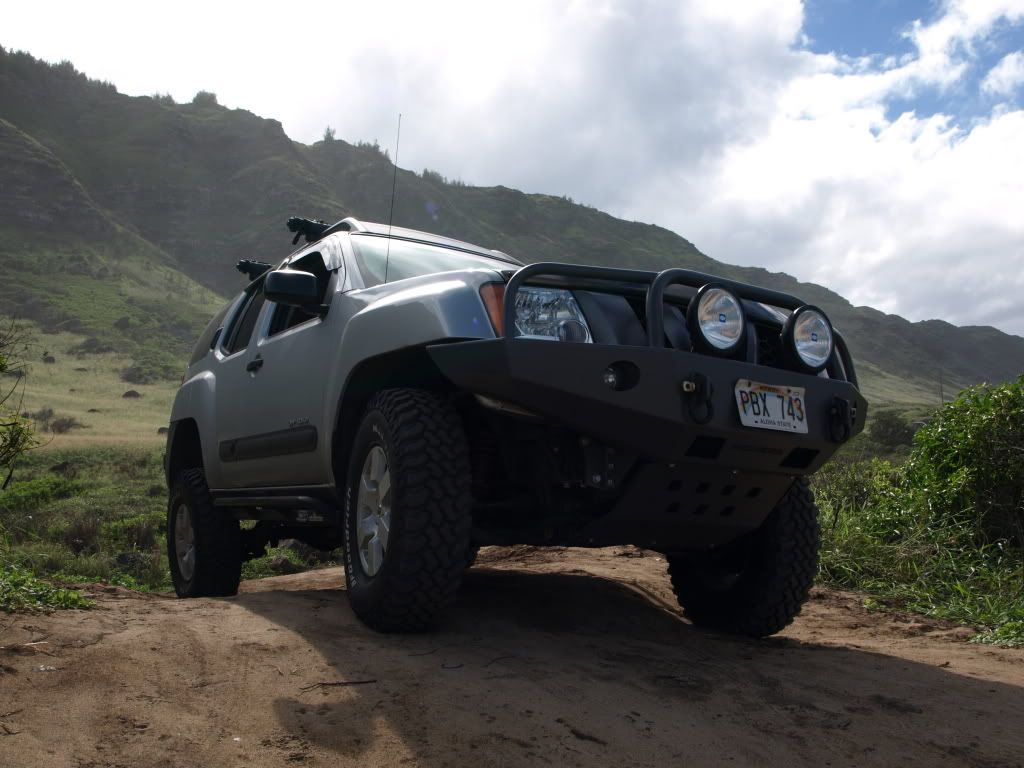 This truck suited us well with a locking rear diff, 3" lift, shrockworks front bumper, sliders, and BFG MT 255's. We were slowly but surely progressing to a vehicle that was being built to express our lifestyle and future desire of expo.
Things change and at times, life requires sacrifice. We sold the Xterra.
We made a decision to sell the Xterra to help further my wife's education. I try to never become attached to a vehicle no matter how much money, time, and most of all memories were made with or spent on a vehicle. After the Xterra I swore I would never buy new again and would only buy used.
On to our 1989 VW Wolfsburg Vanagon. It was white, had a bed on the inside, was able to store multiple longboards on the inside, and helped to make many memorable memories.
This vehicle was definitely most suited for the beach lifestyle as it provided a comfortable and private environment for changing out or into your shorts or bikinis. I personally think that this is the best and my favorite island vehicle. We had so much fun with this van, I think our youngest may have even been conceived in this van. What a shame, SOLD!
With transfer season in the horizon and dreams of expeditions and new adventures awaiting, a new vehicle was in store. At the time, I thought that I had found my vehicle savior. A white 2009 Toyota Tacoma DC 4x4 OR.
I owned this truck for around 7 or 8 months and decided to sell. My payments were a little over $500 a month and I just could not justify spending that kind of money on a monthly basis for a vehicle.
From the Tacoma I went back to another van and bought a Toyota Previa.
It is one of the only modern vans with a four cylinder and tons of room. Very eco surf mobile! I got my windows tinted limo black and all was good, lots of privacy. I sold it for a 1k bucks and bought a white 1989 4runner.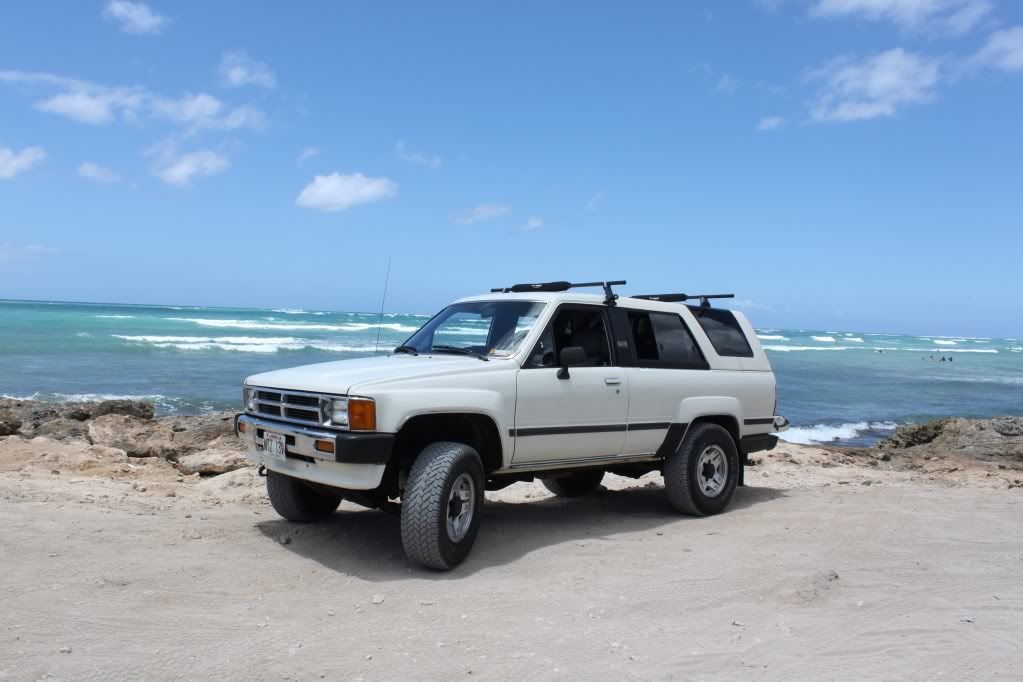 With my 4runner I thought that I had finally found our ultimate family vehicle. I was getting around 18 mpg on my 60 mile round trip commute to work in LA. It stored my longboard, l was able to dream once again of expeditions down south, and did I mention that it was white. Shoots! I even shipped it to Cali from Hawaii. I had no monthly payment, the boys loved it, I had a 3" lift installed with 33's.
I did tons of pm. But it was a 2 door. It was standard and only I could drive it. It just didn't have the comfort or the refinement my wife was looking for.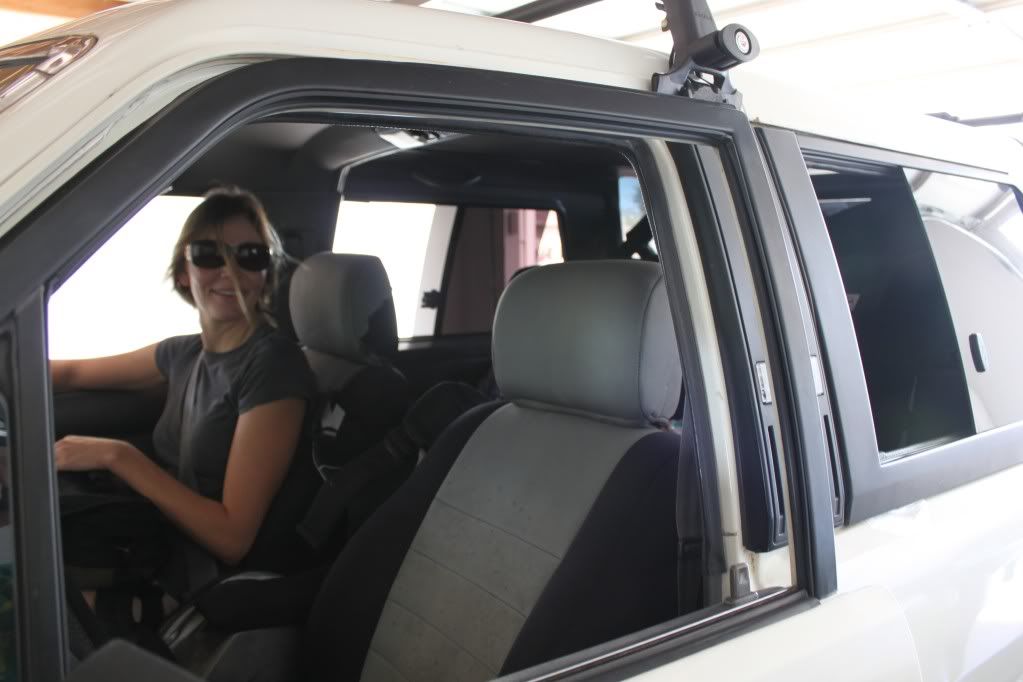 Not even San Onofre made up for it.
Bye Bye 4runner.
All of my vehicles have been meticulously maintained, pm and mods performed by myself except for the 4runner. I had 4 wheel parts do the suspension install, as most of my tools were stolen while in Hawaii. All of my vehicles were sold on Craigs List and You are probably thinking that this guys got a serious problem with vehicles. I've owned many 4wd vehicles to include a 73' Bronco, 2006 Xterra, 2001, 2003, and 2009 Tacoma, and 89' 4runner. What's next? Am I ready to settle down and make a commitment?
My commitment to wife and family is first most. But, like most guys I love my trucks as well. In Hawaii... 80 series were very rare. No! even more rare than seared Ahi. Non existent. With our move from Hawaii to SoCal, l could not believe the amount of Landcruisers on CraigsList in Los Angeles. I Knew exactly what year and color I wanted. So the wait begins...:safari-rig:
Last edited: