Been a while since I've posted one of my trips. Lots of interest in the Arizona Strip but little known or written about its next door neighbor, The Nevada Strip. That portion of infrequently visited land bordered on the North by Interstate 15, The east by Arizona, the south, Lake Mead and the west by the Virgin River. This strip of land encompass the newly formed Gold Butte National Monument. I've done some exploring in the past years to Whitney Pass, The Devils Throat, Little Finland, Catsclaw Wash, The Virgin River access and the actual Gold Butte mountain and grave site. This trip I will conclude my exploring of major "trails" or "roads" visiting Lakeside Bay, Scalon Ferry, Cottonwood Wash and Jumbo Pass before heading out of the Nevada Strip east to Oak Grove and Twin Point on the Grand Canyon.
Early in the season to be passing through Oak Grove, we'll see it he snow depth is too much to travel.
Either way this has all the ingredients of a great adventure on lonely rarely driven roads a long way away from any pavement.
Here is my Google Earth traced map of the places I'll be going.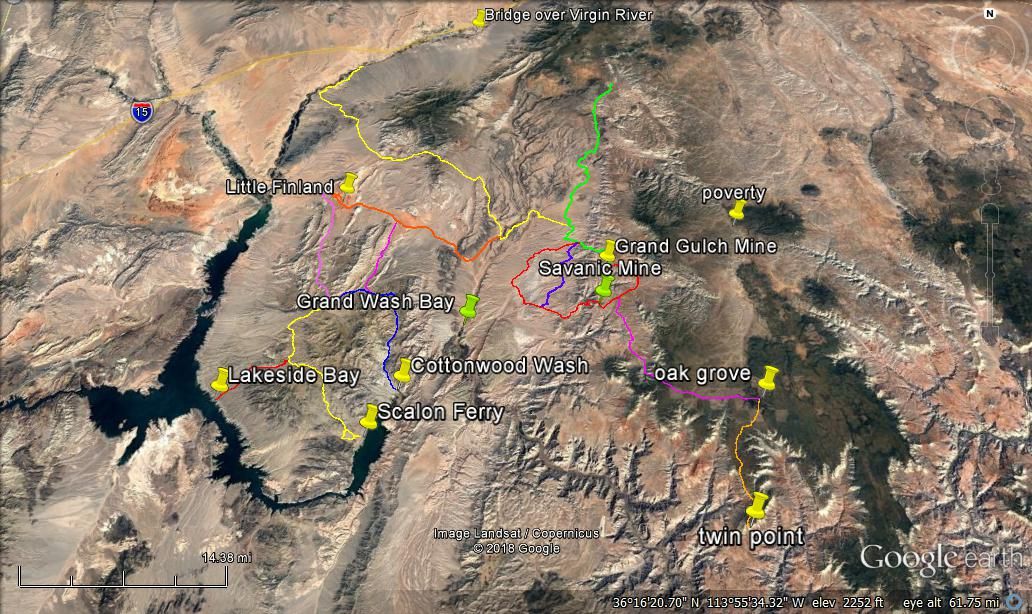 Thanks,
Fred
Explorer 1