...This is for the discussion of Oil and fluid spill's, clean up, and products..
..Although this thread is more geared to offroad clean ups of fluids, this is a common issue whether it be in your garage, yard, on your driveway, or Offroad..
_________________________________________________________
...Believe it or not, many years ago it was a common practice to just dig a hole and bury your old fluids..
..Over the years after seeing the results on our
Ecological System
of such practices and through research and education, we now recycle our fluids by using one of those franchise places to change our fluids or we take the fluids to somewhere such as an auto parts store that will accept these used fluids when we work on vehicles ourselves..
..When working on our vehicles at home no matter how hard you try, every once in a while you will have a major "aw crop" spill that you will need to clean up..
...When we go offroading there are times when a power steering hose will blow, someone punches a whole in their diff or oil pan, or one of the rigs overheat and you are left with a fluid spill to clean up...
..What you need to do before one of these accidents happen to you is to prepare yourself by making an Oil Spill Kit...
..While most of us are familiar with products from the auto parts stores sold as an "Oil Absorbent" in a bag, some may not know that kitty litter is a much cheaper and highly absorbent resolution to the higher priced products sold through the parts stores such as "Oil-Dry"..
__________________________________________________________
..A simple spill kit at home can consist of:
1-five gallon bucket or heavy duty lawn/trash bags (to use as recovery bags)
1- bag of kitty liter
1 - pair of latex gloves
1- can or more of brake cleaner for clean up of tools or concrete
1- bag or roll of wipes for spill clean up, even blue shop towels
and orange hand cleaner with pumice for scrubbing clean items and hands..
______________________________________________________
...The above kit works great in a pinch both offroad and when you are around the home and have access to storing and getting rid of the used products and trash quickly when done with them..
...Offroad, some clubs require you to carry a spill kit in each vehicle in order to participate on trail runs..
..This home oil spill kit above is also handy but comes with some other complications you don't think about until you are in the middle of nowhere trying to clean up a spill and figuring out how to transport it in your vehicle to the nearest town who can properly dispose of it for you..
...The kitty litter in a bag itself is heavy and when full of used fluid, can equally be a toxic spill waiting for a simple tear in the trash bag to spill it's contents all over the interior of your vehicle..
:scratch:..What is a better alternative offroad and to kitty litter?
...This is something I have been working on over a number of months...A couple months ago while researching this I had my "Tread Lightly-Trainer" course and this was a subject that was brought up for not only offroad but also marine applications...
Diapers
..One of the items for offroad that was brought up were toddler gel diapers and adult diapers for those leaks that are draining onto the ground...They are light weight, easily store in a small space and throw one or two of those down and quickly absorb the draining fluid before it hits the ground and they work great with radiator fluid too..
Oil Absorbent Sheets
..During the discussion it was brought up that the boating world has been using these sheets to absorb oil spills in boats during servicing and to safely pump out the bilge...
...From that discussion spawned another write up and experiment using these sheets that can be found at places like WestMarine.com and it is well worth the read..
http://www.4x4training.com/Articles/EnvironmentalImpact/OilSorb.html
Absorbents
..In the mean time I continued my search for convenient offroad "Spill Kits"..I came across a number of companies selling these kits in a bag and they work well for offroad and at home..This can be found at places like Polyperformance.com..
http://www.polyperformance.com/rally/Oil-Sponge-Off-Road-Oil-Spill-Kit-p-26252.html
..This is another variable to the offroad spill kit in a bucket container..
http://www.spillsupply.com/YellowPailSRK.html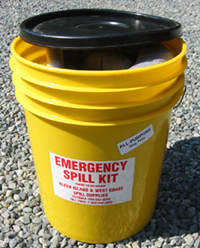 The Motherload
..I continued my search for more options as in buying in bulk at a reasonable cost but I also wanted a couple more options:
1) The ability to use the products in both the garage and offroad
2) The ability to take a packaged product and break it down into smaller, more convenient packages for size and weight.
..and then I stumbled across this online company..They are one of many that carry small kits for the garage to full marine and warehouse containment products..
http://absorbentsonline.com/
...Their
portable spill kits
are designed for over the road truckers and are perfect for a little bit larger spills..
http://absorbentsonline.com/spillkits.htm
...They even carry mats that you can easily cut up to whatever size you want...These mats are convenient offroad as the oil can be rung from them into a bucket or container and the mats can be re-used..
_______________________________________________________
..Please feel free to add any useful items or information you may have for "Oil Spill Kits"..
..Remember, keeping our trails clean can mean the difference of keeping our trails open or giving them a reason to close them..