An Interesting addition to the competition in off road capable EV rigs is coming (maybe/hopefully) to North America in a coupla years. It's rumored that a resurgent Scout badged branded pickup and SUV will be built and sold here, constructed in its own separate (not joint project) factories.
It seems a bit sacrilegious to me to plunk the revered Scout name on a V Dub product, but hey, in the anything goes,Wild West world of EV vehicle development, the end just might justify the means here.
One might hope that this brand revival would honor the old IH's by coming with some kind of old school roof that's partially removable and convertible. The new head honcho for this project reportedly attended a big meet up this past summer of Scout owners, to talk with them in an attempt to better grok what they wanted from a new re-launch of the boxy rigs and that roof option was, IIRC, one of the bigger "hell yeahs"!
Read on below for more. And afterwards, if you think this EV will become a successful competitor, and also think it's maybe a good place to park you spare change, you might want to look out for it showing up in the not too distant future as separate listing on one of our stock exchanges.
https://www.caranddriver.com/news/a39970134/volkswagen-scout-ev-revival/
Scout to Return in 2026 as VW's EV Off-Road Brand
Caleb Miller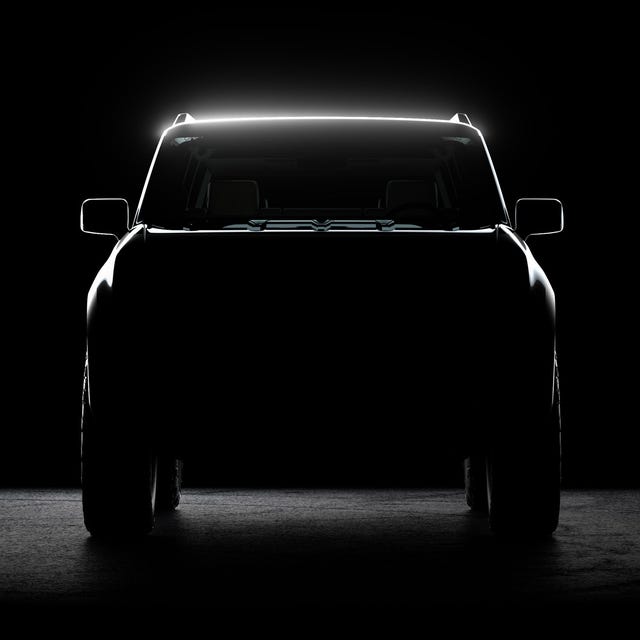 Volkswagen will join the electric off-road market by creating a new company with the long-defunct Scout nameplate, once used by International Harvester.
The Scout brand will begin production in 2026, with an electric pickup truck and SUV duo.
Prototypes will be revealed next year, and the vehicles will be based on a new platform and designed specifically for the U.S. market.
UPDATE 11/14/2022: Scout today released a new image (shown above) teasing the front-end design of its upcoming electric off-road models. The brand also announced that its website is now live, and it features a forum for Scout owners and fans as well as details about the company's direction.
Volkswagen is entering the electric off-roader scene, and in doing so will revive a legendary nameplate: the
Scout
. Made famous by truck and tractor maker
International Harvester
in the 1960s and 1970s, the Scout moniker will return on an
electric SUV
and
pickup truck
designed for the American market, with production planned for 2026.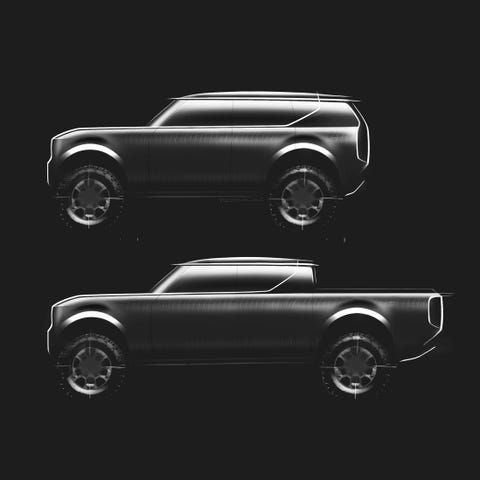 Volkswagen
The Scout name will be bestowed upon a new company under the Volkswagen Group umbrella, which will be established this year with the first prototypes unveiled in 2023. Along with the announcement, Volkswagen provided sketches of a rugged, boxy SUV and pickup truck duo, with an upturned window line that recalls the rear glass from the '60s original. VW says the new Scouts will be based on a new EV platform, and more details will presumably arrive next year when the sketches come to life.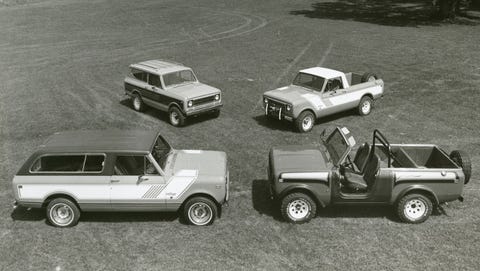 The 1978 International Scout II family.
International
The return of the Scout name had been rumored recently in a
report from the Wall Street Journal
, which hints at other details of the Scout's rebirth. According to the report, VW is aiming to ultimately end up selling 250,000 Scout-branded vehicles per year in America. Volkswagen came by the Scout moniker when its Traton truck division took control of Navistar International, the descendant of International Harvester, in 2020.
…By the time the Scout duo arrive, the electric off-roader space will be fairly crowded, with the current players—the
GMC Hummer EV
and
Rivian R1T
—set to be joined by an electric
Jeep Wrangler
and others."
Last edited: