Hey everyone, I just picked up a 2001 Isuzu VehiCROSS that I'm hoping will someday be capable of light expedition trips, so figured I'd introduce myself and the vehicle.
I was pretty torn for a while about what to do. Growing up around off-roading and always wanting to do a bit of it myself, plans for doing so never really fell into place. I've logged thousands of miles on ATVs doing single and multi-day excursions, but haven't gotten a chance to do any off-roading of my own in a vehicle that's street legal (though you can drive the quads on side roads in NH/ME!). I had a 2005 Avalanche for 7 years that, looking back, would have made a great platform to build an expedition vehicle on, but as they say: hindsight is 20/20. My other vehicle is a Dodge Challenger which, as much as I want it to be, isn't much good off-road.
A few months ago I almost bought a VehiCROSS that was located out in Chicago. It had off-road armor, manual locking hubs, and a few other tasteful modifications. It would have been perfect, but the timing wasn't. I had to let that one go but last week I was able to pick up a 2001 Kaiser Silver VX that was only twenty minutes north of me. It has 92k miles, is relatively clean, and runs pretty well. Aside from the big chrome wheels and KYB shocks, it's stock...which is good and bad. Good, as in it hasn't been modified questionably and I can do everything the way I want, but bad because parts are hard to find. The wheels will be gone soon (hopefully) in favor of 16"s and a good do-it-all all-terrain, and then it'll be time to add some armor and recovery gear.
I know the VehiCROSS doesn't have a huge amount of information readily available, so I'm hoping that this site can provide a bit of guidance if/when it's needed; it'll also allow me to soak up as much knowledge about wheeling as possible. I'd eventually like to be able to offer help to anybody who scoops up one of these weird little 4x4s once I gain some knowledge myself, so an introduction was necessary as I'll hopefully be hanging around this site for a while to come.
Without further ado, my new-to-me VX!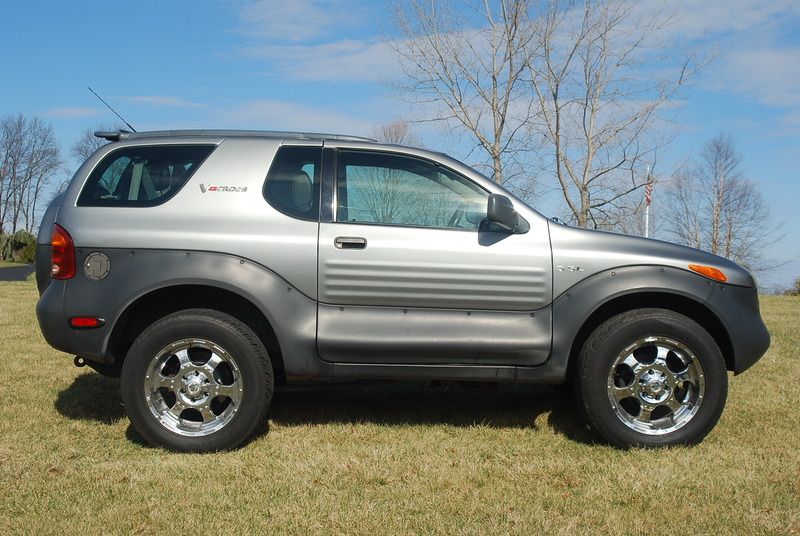 Cheers,
Ross