So let me get back to this....... One of the things a handicapped person needs to consider when shopping for their van:..
Do I want to drive from my wheelchair ? or Do i want to transfer out of my chair to the driver seat?
Couple things this adds to the equation . I'm sure most of you'all are familiar with "dropped floors" found in most wheelchair vans . This adds headroom while in the van and still sitting in your wheelchair. Some dropped floors start behind where the front seats mount , some start at the firewall. If you want to drive from your wheelchair most of the time this is going to require the dropped floor start at the firewall . Simply because your normal height will sitting in a wheelchair is typically too high of a position to drive from. So next option is transferring out of your chair into a 6-way power seat. The power seat can be used in both configurations , dropped floor all the way up or dropped floor starting just behind the front seats , HOWEVER , you need to keep something in mind. The up/down travel of these power seats does have limits. Therefore depending on your level of mobility you must look closely here.
The power seat will only drop so low , meaning if the driver seat area is not also lowered, even with the seat lowered to its lowest position it still may be several inches higher than the height of a wheel chair . This make's a normal "slide transfer" more difficult. If the driver seat area is lowered , most of the time the power seat will lower enough so that it is at least the same height as your wheelchair making a slide transfer MUCH easier.
Taking all this into consideration I decided I wanted a dropped floor , all the way to the firewall, with a 6 way power seat. I am still currently mobile enough to make a slide transfer IF and only IF the seat I am transferring into is level with or slightly lower than my wheelchair.
"6 -way power seat" What is this ?? Its a WONDERFUL invention to help the handicapped drive from a drivers seat. They power forward/backward , up/down and rotate clockwise and counter clockwise. So a wheelchair user can enter the van in their chair , back themselves in the van just behind the driver seat . Then power rotate the seat around, power it back toward their chair and last lower it down enough to facilitate a slide transfer. Once transferred simply rotate back around power forward to the wheel and adjust your height as needed.
My seat rotated and lowered :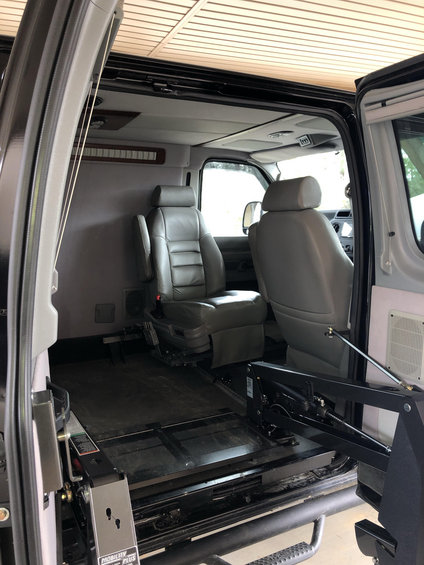 My seat rotated and raised :