Updated 6/3/16
Before...
After...
-----------------------------------------------------------------------------------------------------------------------------------------------
Hello all,
Figured I need to get off my butt and start a build thread. I'd like to start by saying thanks for such a great forum. I've been lurking for a while and am amazed at all the knowledge and ingenuity here. I have learned so much from you guys and know that will only continue as I work through this build. So, thanks to all of you for all the build threads!
A little background on me, I have been wanting to do a simple M416 build for a few years. It's just the wife and I and three small dogs but the FJC bulks out quickly. A trailer will help immensely. Since my job requires me to pull a trailer through all sorts of forest roads/trails across the country, it makes sense to me to drag one while camping.
I have very limited experience in working with metals. I took Welding 1 in high school way back in 1992. Never got to touch a MIG welder then. A few years ago I enrolled in a welding class through the local technical college's Continuing Education program. There wasn't a lot of teaching welding techniques. The class was mostly a safety rundown and then we were turned loose in the shop. I've spent a bit of time at on Jody's excellent
www.weldingtipsandtrick.com
website for technical help. But I did build a hitch basket at the class which can in handy this fall. Yippee!
I needed a welder of my own. I did a lot of research into what welder to buy. I decided on a Hobart Ironman 230. This is way more welder than I need for the trailer. But, like buying a gun safe, I went with the buy once cry once/go bigger than you think you'll need theory. I waited three months for the local Hobart dealer to run a sale. On Black Friday they had a 15% store wide sale. No sales tax in Montana so my OTD price was $1189. I'm very happy with that.
I have been searching craigslist for a year and have only found one M416 for sale within a reasonable distance from me. So, when it popped up last spring I jumped on it even though I had to pay through the nose. I could see from the add that it had a bit of body damage. It was used as a pump unit by some firefighting agency (wish I knew which one). When the pump was removed they used a cutting torch to take it out. There are numerous holes on the sides, one large hole in the floor, and the center crossmember of the frame was cut. With basically zero metal skills I thought this would be a fun project to learn on. Here's some photos of when I bought it.
At this point I was thinking I would just patch it up, build a lid, throw on new paint and some new rubber and be done. Boy was I wrong! After tearing it down I could really see what I had bought. There is way more wrong with it than I knew. Besides the holes in the body I could now see that the tongue forging was cracked above the landing leg and most likely not repairable, the landing leg was bent, one of the leaf springs was broken (bushing ceased and cracked the main leaf), the other leaf had lost a lot of arc, the front and rear top rails on the bed were bent, the fenders were all sorts of crooked, and that the tail light mounts were bent. It guess it has seen more hard use since 1966 than I had hoped. Ugh!
Besides all of that I decided that I don't want to run the stock axle and wheels. Instead want to run the same size tires as the FJ Cruiser (one spare for both units) and want the simplicity of EZ lube axles. Since the pintle is getting tossed I might as well extend the tongue to get clearance from the FJ door. There goes any budget I had!!!
So, I have been on a spending spree trying to assemble all the needed parts to put this together the way I want it. I bought new 6x5.5 16" wheels, new 265/75-16 BFG All-Terrain T/A KO2 tires, new leaf springs, Daystar .5" lift shackles, new Dexter 3500# 57" axle, new leaf spring hangers and U bolts, new shocks, a Max-Coupler, and new bal c jack stabilizers.
Some issues I've run into since buying all these parts. First was that the axle comes with 1/2x20 lugs. The acorn nuts are 13/16". Even a thin walled socket will not fit into the small diameter holes of the factory aluminum Toyota wheels. Of course Toyota doesn't make the splined nuts that come on the FJ in a standard thread pitch. So, I ordered some splined nuts to fit the smaller factory wheel holes but they take a different socket than the metric nuts. *Note to self* DON'T LOOSE THAT SOCKET!
Second, one of the Daystar shackles was welded up wrong from the factory. It was canted pretty bad and not useable. Daystar was OUTSTANDING to work with. I called them up and without any questions they sent a new shackle direct to me. That is good customer service!
Third, the new axle is slightly larger in diameter than the original. New hangers are needed which means new shock mounts needed to be fabricated.
I patched most of the holes in the body and got the fenders pounded out straighter than I could have hoped for. I also made new shock mounts. I should get the frame and tub back from the blaster today and see if there is any other rust damage that needs repaired. Next will be to extend the tongue, cut a tailgate in, and build the lid. I'm looking at how to finish it. Kinda leaning toward Monstalining the entire tub once it's done. Dunno. I'll run a Tepui Kukenam ruggedized RTT in top.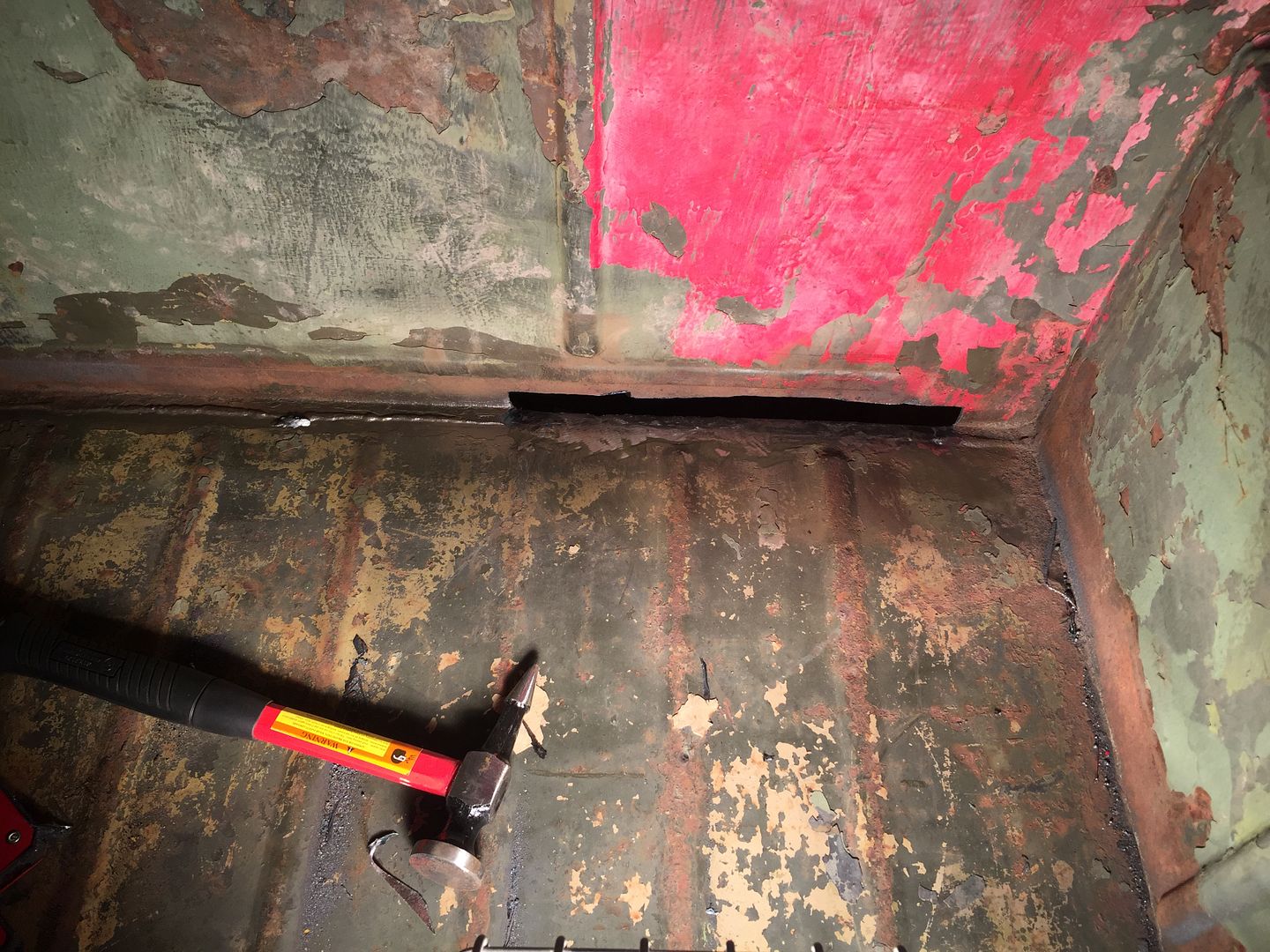 Thus far I've been really bad about taking photos of the process. More photos to come once I get it back from blasting and the work continues. I will also be adding a WTS ad for the pintle, axle, handbrake unit, four military wheels and possibly the tail lights. Although, shipping costs will probably prohibit most of that from selling.
Stay tuned...
Last edited: