So I have been lurking/posting/dreaming about buying our family a full size van for over a year. We just returned from a 1500 mile trip to Mammoth Cave NP, Cumberland Gap NP and the Creation Museum with our 4 kids in our 3rd gen 4runner my wife (I have added a 3rd row).
.
From last summer's trip from South Carolina to Seattle and back 7041 miles in 15 days. (Wife and myself only.)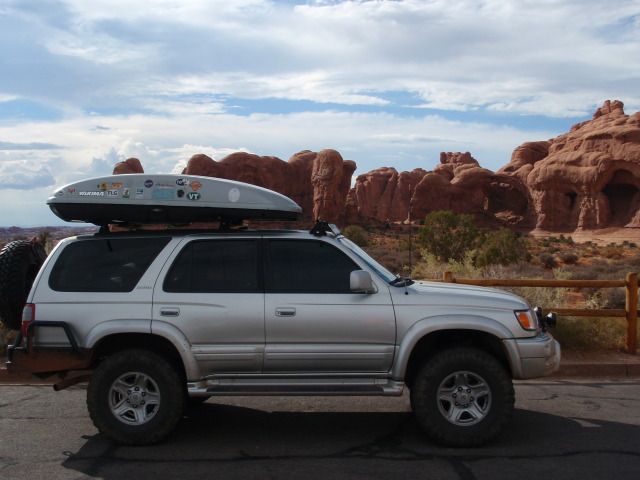 It now sports an ARB front bumper, about to go down to 265/75/16 tires to help with comfort and MPG.
.
My wife is now convinced that we need the space. I have had my T100 for sale for about a month and it sold this past Saturday so I have some $ to work with. As with many of us my manhood wants a 7.3. My pocketbook says different. Not planning on a full build out as we need seating capacity but would have some amenities. Must be a '97+ Ford van. I have seen several 92-96 that fit but I can't go with that dash among other things.
.
Needs:
.
1. Space for 9+ people. (We have 4 kids now 9,7,5,3 and would like to have the space for guests and we are considering adding more kids down the road of our own or through adoption/foster.)
.
2. Decent fuel costs... We had a FZJ80 Land Cruiser before our 4runner and 12 MPG hurt as a DD, the 4runner gets 16-17 most of the time now. I would like to stay as close to that as possible. (From my research this leaves me with the 5.4 V8 or the 7.3 Diesel, no need for the V10 since MPG will be in the 12 mpg or less range. Not sure about the 6 cyl, we do not plan to tow anything heavy but I would like to feel like I have some ability to pass when needed.)
.
3. Dependability - I will add mileage here, although I have seen many vans with 400 to 500K+ miles I am not sure I want to be over 200K, Actually prefer to be <150K in a 5.4. My budget comes into play here big time, especially when looking at 7.3s. I am ruling out the 6.0, I do not want to start a debate here but from my research as well as talking with a few good friends who are diesel mechanics I do not have the $ to throw at the 6.0 to make it dependable enough for me.
.
4. Affordable - This is usually a funny one when I look on Expo as many people on here have close to the $ into thier vehicles that I have into my house. My budget for inital purchase is $5K max. I woudl prefer to stay in the $3-4K range so I have some modification/maintenance $ to work with in the begining. (I also want to keep a little $ to the side to get a cheap used truck so we can still haul a few things for the yard, trash, etc. Trying to find a 67-72 Chevy in the $1500 range thats not rusted out.)
- This one has prove to be the kicker for some of the "wants" below.
.
5. Daily Driver - Must initially be able to be a DD for at least a few years. Plans always change but given our current situation and possibility of adding more kids in the future this is going to have to be a DD. We drive approximately 20K in 2 different vehicles each year.
.
6. Rust free. - Having owned a FJ62 from Minn. I will never deal with that again. For a few reasons, #1, your vehicle is litterally falling apart and will need body work for the life of the vehicle, it also sucks breaking off bolts, etc. When it does come time to sell the purchased vehicle it is very tough here in the south to get anyone to look at anything with major rust. Lastly I don't feel like having to constantly warn my kids to not touch the vehicle because of fear of tetanus.
.
Wants:
.
1. EB - I do not want to have to carry a cargo box or two on every trip we have over 2 days long. So I would like to have the space possibly behind the last row?
.
2. Diesel - Don't we all drool over the sweet diesel? I know I do. My main issue here is affordability, not only with inital purchase but also with continued upkeep. I have a good friend who can do the work at a somewhat discounted price or even help me with projects if needed so that discounts some of the costs, but diesel parts seem to be $. Although this is a big want it is definately not a need, we do not plan on towing anything substantial but there is a possibility of a camper way down the line.
.
3. Customized to my needs. This one plays into budget as well. 15 pass EB vs EB cargo vs EB conversion van.
.
- 15 pass., rear air is already installed at times they are not loaded down by PO as much as cargo vans. However it has windows everywhere, this could be an advantage since I will need seating for at least 7 in the rear and I think they will want windows. (I am thinking 2 rows of buckets in the rear followed by a rear bench, possibly a bench that lays down. Leaving rear for storage/bags, etc. If I can find some Sienna recling buckets at a bargain that woudl be perfect.)
.
- EB Cargo - Ability to customize to our needs, put seats and windows where I want matched together. Traditionally these seem to be maintained well and do not need much maintenance $ up front. I have heard that many times they are overloaded, idled, and not always treated kindly by thier drivers. Another downside is cost after purchase to make it work now or soon for us as a family, we can keep using the 4Runner as the family DD but I don't want it to be a forever long build. (I had our 4runner in condition pictured about in ~ 5-6 months after purchase.) I am fairly handy with things, but know how long it can not only take to get the project completed, but also to not only find the items needed but also find them at a reasonable price can take awhile. Remember the budget/afordability thing above it keeps going. I just don't have the $ to throw at these projects like many guys on here do.
.
- EB Conversion van - I have seen very few of these at a decent price. Windows are usually large and placed by 2 rows in the rear, not exactly the size I would use or where I would put them but very close. These are usually already modified some and have rear air, TV/video at times and are not loaded down/ idling etc like a cargo can be. I have literly seen 2 of these in the last few months that fit some but not all my requirements.
.
4. Barn doors on the side, sliders seem to have an issue with staying on track and with small kids the ability to shut the doors is most important to my wife and I so we do not have to close it every time.
.
5. I'll pile a few more here as they are nice but not 100% needed at least to begin with. TV/video system, fridge, some camping (Does not have to be fully contained in the van, but ability to sleep a few would be a plus.) Raised roof for ability to move around the van, We do not want it to be a huge bubble top more like a traditional conversion van height.
.
So, I have put a few thoughts down and really want to make sure I am thinking about everything. At this point I know 4x4 is cool, but we don't "need" it. Can't believe I am saying that after I have only owned 4x4 family vehicles since we have had kids. Same deal with a poptop, I would love to have one but $ wise I dont see it hapening.
.
I would also appreciate any leads that you guys might have. I have been searching searchtempest and autotrader in the southeast off and on for a few months now, but since I sold my truck I "need" to buy something fairly soon.
Last edited: