I currently have the Extreme Outback kit as well as tire irons and a bead breaker. I recently had a shop handle a repair for me because they had these nifty plug/patches from Xtra-Seal. O'Reilly and other stores sell them, about $20 for 15 of them
http://www.31inc.com/Products/Category/universal-quilled-combination-units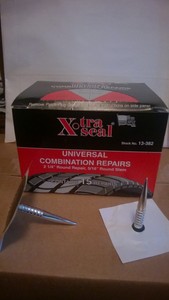 Story time: Long, long ago while driving my 1989 Bronco...
I used to got out exploring a lot and a friend who would usually drive his own Blazer but on this trip he was riding with me. We spent the weekend exploring along the north-western border of the USMC's 29 Palms playground. Before too long I heard the swoosh-swoosh of a bad tire leak so we pulled over and swapped in the full sized spare. The hole in the damaged tire looked way too big to plug so we mounted it on the truck's tire carrier in the back. Not 30 minutes later we had a far worse puncture from what looks to be a large piece of machined steel shrapnel from some sort of ordinance. I still have that jagged piece of steel!
Okay! So I pull out the cheesey-cheapo auto store tire repair kit and the plugs have all disintegrated into a gooey puddle. Dang. What to do? Hmmmm.
Good old duct tape! I wound up some cylinders and coated the heck out of them with glue. I put three "plugs" into the gash of the first damaged tire along with more cement and waited a good 20 minutes for it to dry. I cut off the excess tape that was sticking out and cautiously aired the tire up to 25 pounds and no leaks! We drove very slowly out to Highway 40 and cruised slowly to a decrepit building that had a sign advertising tire repairs.
The guy who ran the place was a good ol' Hillbilly-'merican and when he took the tire off the rim he said in a bemused tone "Did you do
that
???"
After admitting my guilt he said "Well, that's purty good! I hain't never seen nuthin like that!!"
I convinced him to just use better plugs and a patch so that I could go find a new tire. He did a great job and asked for very little payment. These days I try to inspect my repair kits well before I head out.