I never thought it would happen. I thought there was not enough market demand. But Toyo has introduced their popular Open Country MT in the LT255/85R16 size. I have half joked in the past that if Toyo ever offered this tire in a 255/85 I would buy two sets. Toyo has also introduced LT235/85R16 and LT245/75R16 sizes of the Open Country MT.
The Toyo MT 255s are so new they are not listed on Toyo's website. There is a possibility that these tires are a Les Schwab Tires exclusive, though I'm from from certain about this. After learning that these tires were available from Les Schwab last week I began talking with Toyo marketing/PR regarding obtaining a set for for a magazine article. It looked promising, but after a week I was informed that currently Les Schwab has all stock in the 255/85 size. I did call another local independent Toyo dealer who checked and said he would be able to order them but that it would take a couple weeks? His price was very similar to the discounted price Les Schwab offered me. This will all shake out in the next few weeks or months. Regardless of who has them currently these tires are out there and for sale if you can find them.
I have been an occasional fan of Toyo MT in the past because of it's rugged construction and high quality. Low noise for an aggressive tread, usually taking little weight to balance, three ply sidewalls, seven ply tread and massive sidewall lugs make this a serious tire. The potential negatives have been weight, cost, stiffness and the sizes offered.
The only 16-in. sizes available that worked for my applications in the past were 265/75R16 and 285/75R16. Both are load range E tires. The 285s rode better because of their taller sidewalls but were too wide for me, and the 265s were too short (I much prefer 33s over 32s for my rigs). I recently sold the 265s to a friend and I sold the 285s with my '05 Rubicon over a year ago.
Since the Toyo MT 255/85 is a new offering in a size that has disproportionate popularity on this site, I thought it would be helpful and interesting to share some photos of this new 255/85 tire next to a few others of the same size, as well as the Toyo MT in 285/75R16 & 265/75R16.
Specifications According to Toyo:
-Overall Diameter: 33.5"
-Overall Width: 10.2
-Static Loaded Radius: 15.6
-Acceptable wheels sizes: 6.5-8.0 (7.0 used for measurements)
-Tread Depth: 19/32"
-Revolutions per mile: 619
-Weight: 60-lbs
-Speed Rating: P-93-mph
-Load Range E: 3415-lbs @ 80-psi
Toyo MT & Maxxis Bighorn MT 255/85R16 Unmounted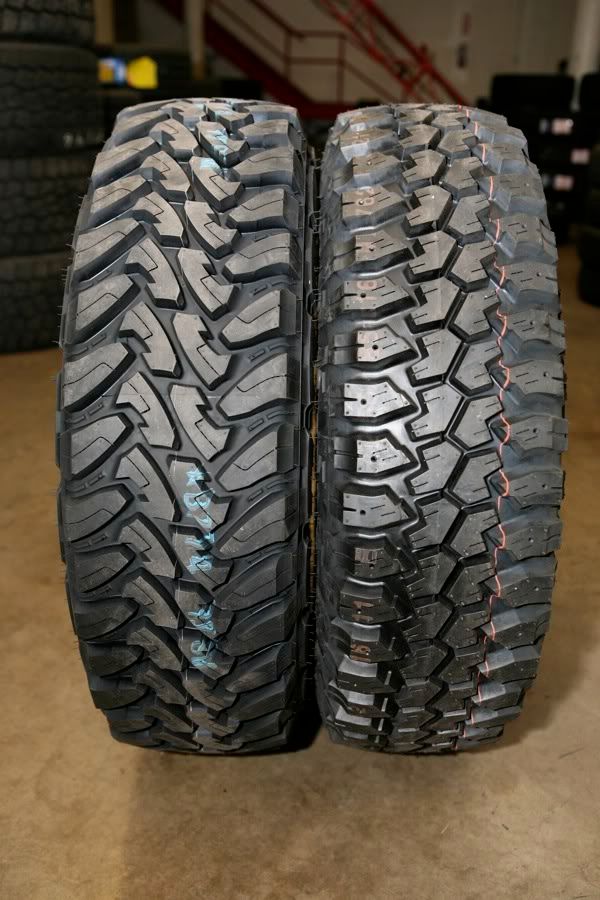 Toyo Mt & Bighorn MT 255 Close Up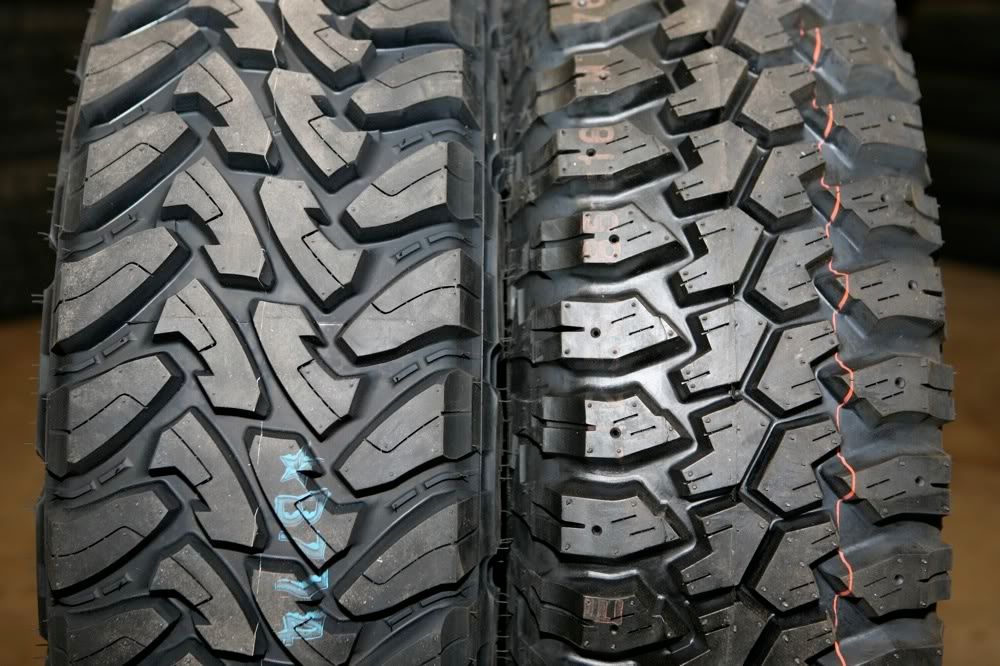 Toyo MT & Dean (Cooper brand) SXT MT 255/85R16 Unmounted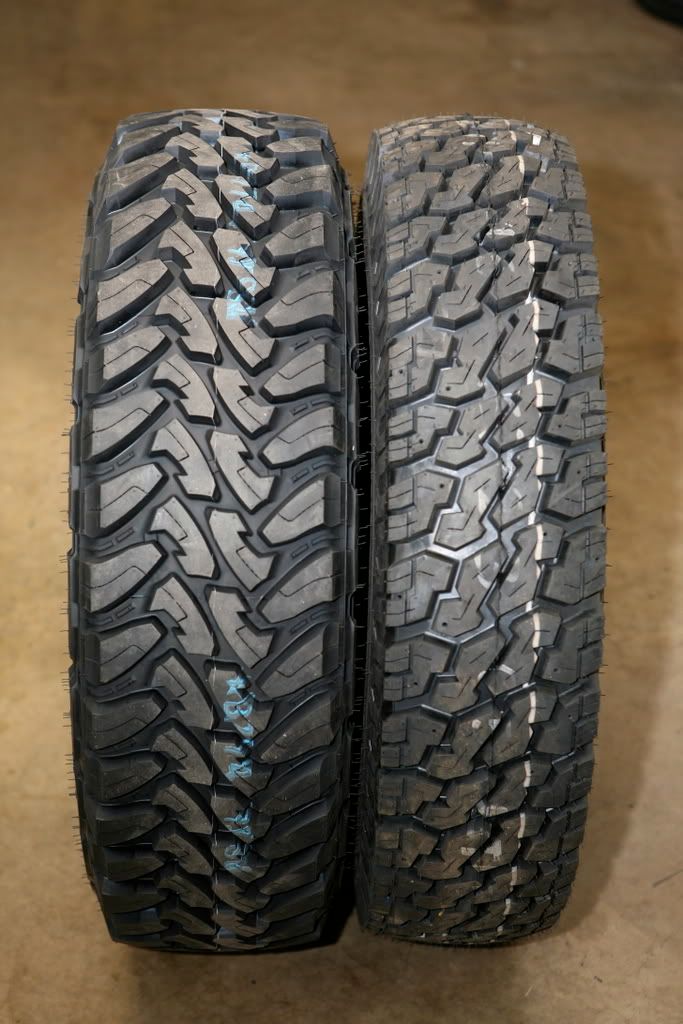 Cooper ST & Toyo MT 255/85R16
BFG MT & Toyo MT 255/85R16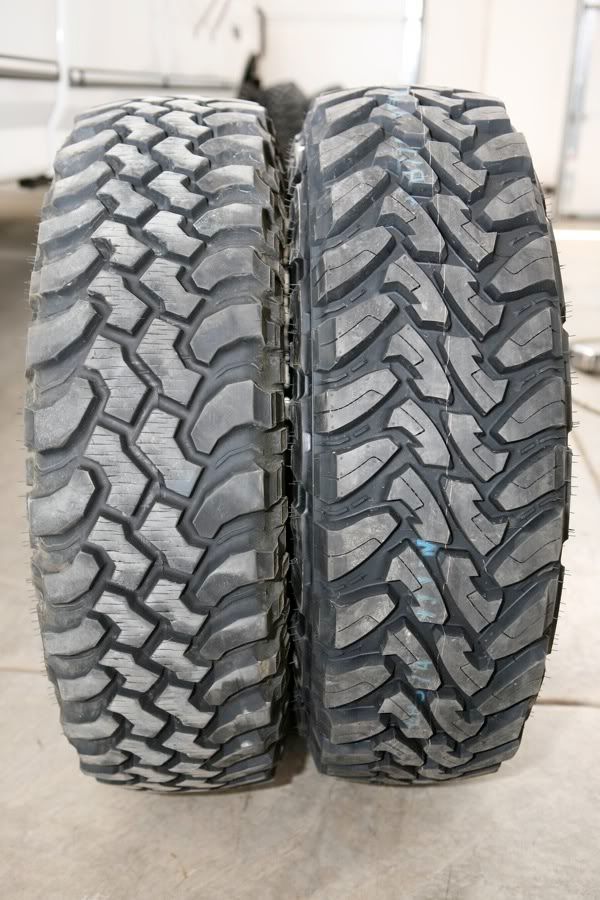 Toyo MT 285/75R16 & 255/85R16
Toyo MT 265/75R16, 255/85R16, 285/75R16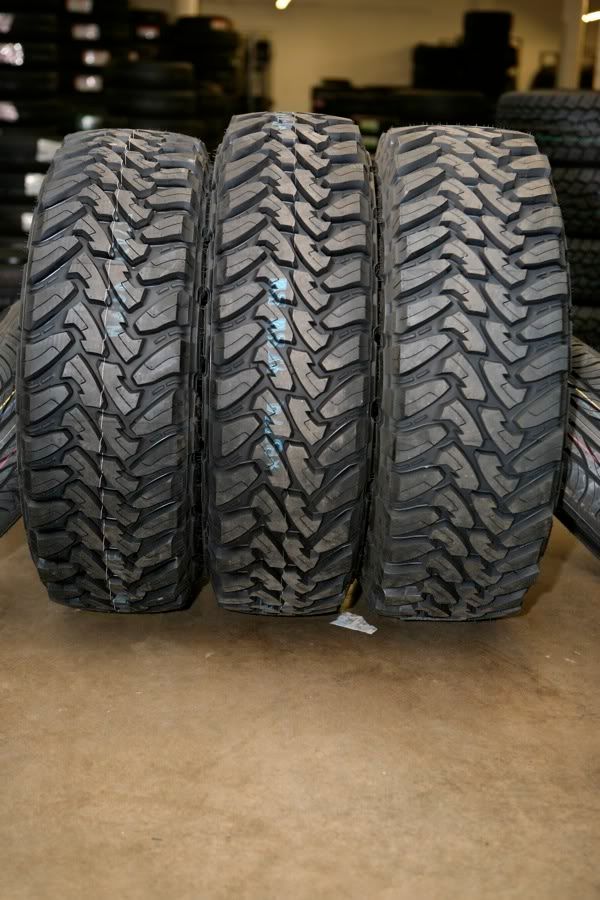 Last edited: