XRC8 Winch Installation - Solenoid Relocation and In Cab Controls
Mechanically, the winch installation is very strait forward; just mount the thing on the bumper. The end..haha
Now electrically, I decided to do some customization and make it a bit more complicated (especially for me, I am a mechanical Engineer, electricity scares me! Haha)
I decided to do two things:
- Relocate Solenoid to Under the hood
- Install In-Cab Winch Controls
To relocate the solenoid I had to first find a place to put it. I was already making a bracket to mount my auxiliary fuse block (See
http://www.expeditionportal.com/forum/showthread.php?p=562049#post562049
for fuse block installation) so I decided I would try to add the solenoid.
First order of business was to protect it somehow, after searching the isles of the local home depot for a good half an hour, my wonderful girlfriend points to a shelf and says "what about that, will that work?" Low and behold there was a PERFECT vessel to mount my solenoid. A 4" x 4" x 4" junction box.
First I drilled all necessary holes to mount the solenoid.
Then cut a notch to run the plug for the remote out the back side.
I then cut a big notch on the front to allow for the large cables to run out to the battery and winch.
Next order of business was to get some cables that would reach all the way to the winch from its new location. After a faily expensive trip to west marine for some marine grade 2 gage wire, I had enough cable to reach my winch.
All that was left was to install the aux fuse block/solenoid braket in the engine bay. Here you can see the final result, the solenoid box is under the bracket. You can kind of see the cables running out from under it.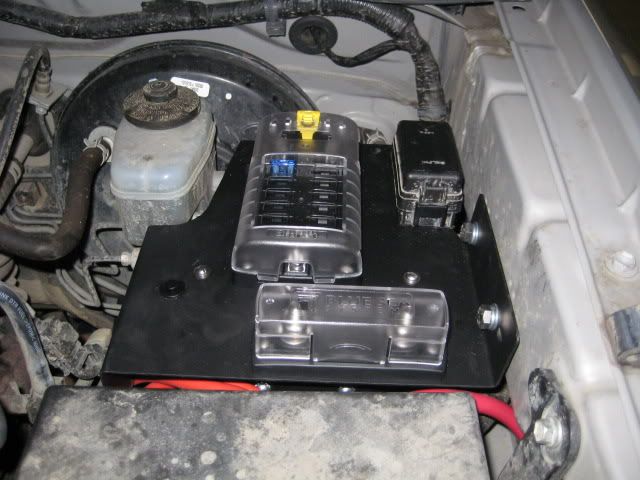 Now onto the in cab controls…
Last edited: